Best Tennis Betting Sites in India
Welcome to our guide to the best tennis betting sites in India. Our team has reviewed all of the top tennis bookmakers for Indian players to create our recommended list. We've also put together a tennis betting guide featuring the different types of bets you can make on tennis matches and tournaments.
If you're new to betting on tennis, that's okay. Keep reading to learn how tennis bets work with our expert advice below.
Show Me More
Show Me Less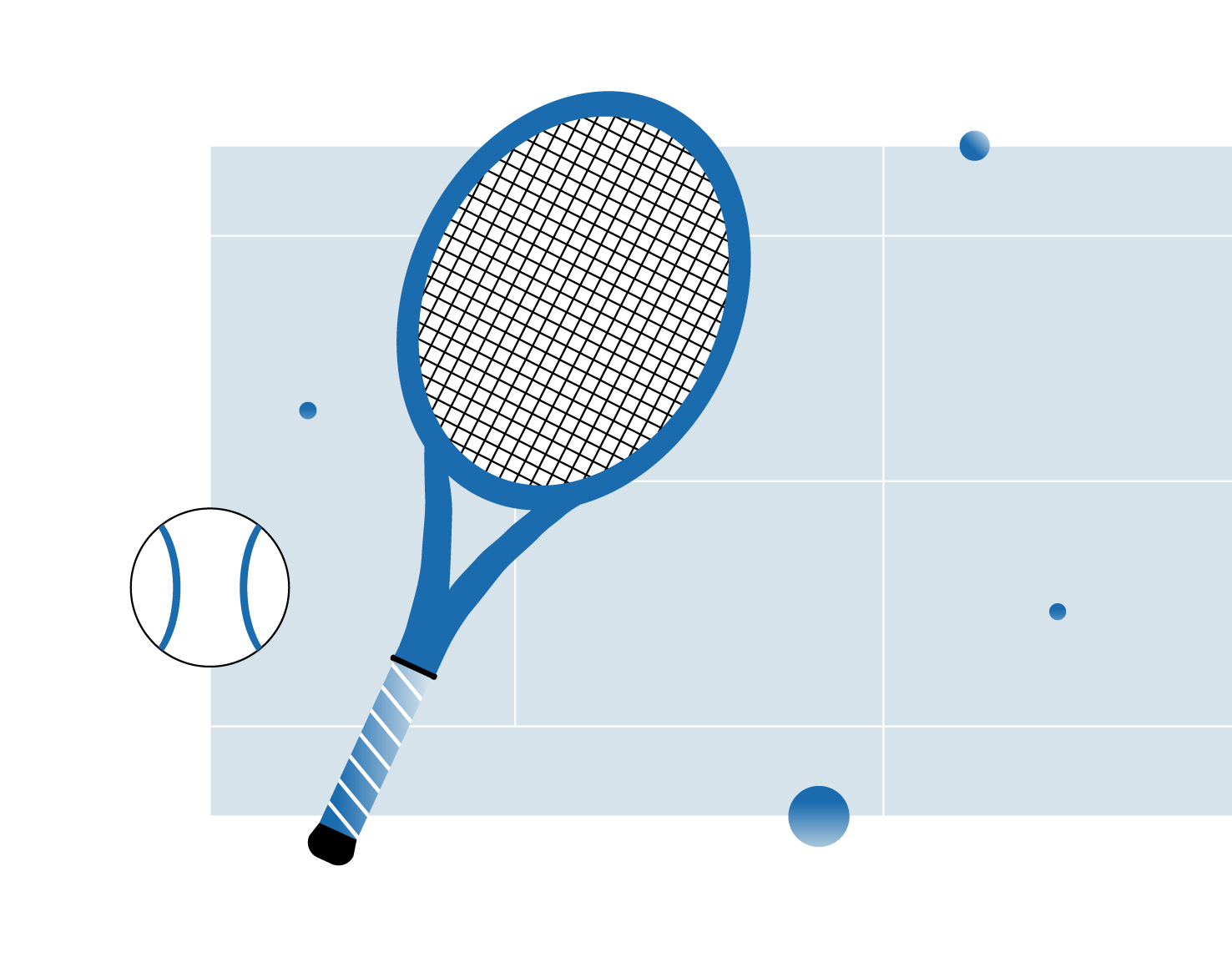 Best Tennis Betting Sites in India June 5, 2023
What Makes a Great Tennis Betting Site?
Our team reviews all sports betting sites and ranks them based on what they are good at and what they're not. In order to make our list of the top tennis betting sites in India, these bookmakers scored well in the following:
Range of Markets
If you want to make profit whilst you're betting on tennis, you need a wide range of matches to choose from. Your job is to identify good bets, based on statistical analysis, but you can't do that if the tennis betting site doesn't have many matches available. All the sites in our list cover all matches from the ATP, WTA, Challenger and ITF tours. If there is a professional match and you want to bet on it, you will be able to at these bookmakers.
Top Odds
Getting the best odds gives you more value for your money, so we ensure all our recommendations have consistently great odds. Each tennis betting site will have slightly different odds on each market, so we recommend you search at these sites to get the very best. However, each of the sites we recommend has industry leading odds, so even if you join just one, you know you'll be getting some of the best odds around.
Great Sports Bonuses
Bonuses allow you bet on tennis for free, so what's not to love? Sometimes, though, betting sites catch your attention with a big offer, but when you look more closely, things aren't as good as they seem. All the tennis betting sites we recommend have generous bonuses with excellent terms and conditions. There is no point in taking a large bonus if the terms and conditions prevent you from ever getting any winnings. Luckily, you won't have to experience that if you stick to our list.
Customer Service & Reputation
In order for us to recommend a tennis betting site, they have to have a great reputation with their customers and a long history of customer satisfaction. Also, as part of our review process, we use the customer support services on the site to test them out. If the staff don't answer our queries quickly and efficiently, we won't recommend them.
User-friendly Apps
Betting apps add extra speed and convenience when you want to bet on tennis. If you are doing research and you want to place a bet quickly because you've found the right odds, having an app on your phone is a great way to do this. All of our recommended tennis betting sites have their own apps or excellent mobile sites, so you can make your bets on the move.
Show Me More
Show Me Less
How to Bet on Tennis
Tennis betting allows you to bet on your favourite players and tournaments from around the world. Our top tennis betting sites offer wagering on everything from Grand Slam events to minor tournaments on secondary tours like the Challenger Tour.
If you've never placed a tennis bet before, it may seem like a difficult process. In reality, it's very simple to get started. Here's a short step-by-step guide that will get you ready to make your first bet.
01
Choose Tennis Betting Sites
Choose one of our recommended tennis betting sites. You can choose any site that feels like a good fit for you. Click on our link to be taken to their website.
Fill out the registration form to create your account. You will need to supply some basic information like your name, email, and phone number to do so.
Head over to the cashier section to make your first deposit. Pick one of the deposit options that works for you, then provide the information you're asked for to move money into your account.
Choose tennis from the list of sports on the site. Find the tournament or match you would like to bet on from the list provided.
Click on the bet you'd like to make. Tell the site how much you wish to wager. If you are happy with the potential payout, click confirm to place your bet!
Most Popular Tennis Betting Markets
There are a few different ways for you to bet on tennis. From individual match bets to tournament winners and in-play betting, here is a list of all of the most common tennis bets you'll see at our top sites.
Outright Winner
This market asks you to choose which player will win a particular tournament. Before a tournament begins, you can bet on any player you like. As the tournament goes on, those odds shift based on who is eliminated, injuries, and other factors. Your bet only pays if your player wins the entire event.
For instance, you can bet on the Wimbledon winner. Before the tournament begins, you might see Novak Djokovic listed at odds of 3.00, Roger Federer at 4.00, and Rafael Nadal at 6.00, among other players. Outright winner betting is perfect if you want one bet to cover an entire tournament, or if you want to bet on a favourite, but don't like the small payouts top players offer on most individual matches.
Match Winner
A match winner bet is exactly what it sounds like. You will pick which plyer will win a particular match. If your player wins, you'll be paid out at the listed odds.
For instance, you may see a match between Ashleigh Barty and Naomi Osaka at the Australian Open. The odds might be 1.85 on Osaka, and 2.10 on Barty. Match winner bets are perfect if there is a particular match you want to watch, or if you feel confident about the winner of a match and the bookmaker is offering generous odds on that player.
Over/Under
In an over/under bet, also known as a "totals" bet, you'll be predicting how many sets or games will be played in a given match. For instance, the betting site may post a total of 23.5 games for a match. You'll then choose whether the final number of games is over or under that amount.
This can be a good way to get action on a match without trying to predict a winner. Instead, if you feel one player will dominate, you might take the under. On the other hand, if you expect a close match with several tiebreaks, you might take the over instead.
Handicaps (Spread Betting)
In handicap betting, the bookmaker gives a handicap to the weaker of the two players, then offers similar odds on both players. For instance, you might see a market that shows Alexander Zverev -3.5 games against Denis Shapovalov. If you bet on Zverev, he must win at least four more games across the match to win the bet. If you bet on Shapovalov, you will win if he wins more games, or if he at least comes within three of Zverev.
Spread betting can also apply to set betting. For instance, if Zverev is favoured by 1.5 sets against Shapovalov, he must win by at least two sets to win the bet. Handicap betting is a great way to get something close to an even money bet even on a lopsided match.
Correct Score
In this bet, you are asked to predict the exact score in terms of sets for a given match. For instance, you might place a bet on Dominic Thiem to beat Matteo Berrettini two sets to one. Your bet only pays off if you match both the winner and the exact set score you predicted.
Correct scoring betting can be a way to improve your payouts if you feel confident about how a match will play out. For instance, if you expect a player not only to win, but to dominate, you might pick them to win 2-0 in sets at better odds than you would get for simply picking them to win the match.
Prop Bets
Prop bets, also know as proposition bets, are side bets that aren't specifically about the outcome of a match or tournament. For instance, you might be able to bet on which player will serve first, the number of unforced errors a player will accumulate throughout a match, or if the first set will end in a tiebreak.
Many bettors use prop bets as a way to have a little fun while watching a match. However, you may be able to find markets where the bookmaker hasn't really considered the odds well. These opportunities can be very lucrative for attentive bettors who do their research.
In-Play Bets
In-play or live betting allows you to play tennis bets on a match that is already in progress. For instance, you can bet on who will win the overall match with odds that reflect the current situation. You may see Serena Williams at 1.50 to start a match, but at odds of 3.00 after falling behind by a set. If you still think she will win, you can now take advantage of the improved odds.
In-play betting also allows you to bet on small portions of a match. Tennis betting sites often feature wagering on which player will win a set, a game, or even an individual point. This gives you nearly endless ways to bet on the action at a moment's notice.
Tennis In-Play Betting and Live Streaming
In-play betting has become one of the most popular ways to bet on tennis. The top tennis betting sites have made it easier than ever to follow the action with the addition of live streams of tournaments from around the world. Here's a look at why so many bettors enjoy in-play tennis betting.
In-Play Tennis Betting
There's nothing worse than trying to bet on a match but finding out that it has already started. That's where in-play betting makes all the difference. With live betting, you can place your bets at any point during a match, with the odds constantly updating based on the score and situation. You can also place bets on each game and point as it happens. Learn more about live betting by clicking on our link below!
Live Stream Betting for Tennis
The real fun of in-play betting comes from being able to bet on a match while you watch it. If you can't watch your favourite tournament yourself, our top tennis betting sites have you covered with live streams of events and matches from around the world. Start watching matches while you bet on them by clicking the link below and joining a live stream betting site.
Tennis Handicap Betting & Accumulators
As we've mentioned earlier, tennis betting sites offer a wide range of options when it comes to wagering on matches and tournaments. Handicap betting and accumulators are two types of bets that can be a bit confusing to new bettors. Read on below to learn more about these exciting ways to bet on tennis.
Handicap Bets in Tennis
In handicap betting, the bookmaker will apply a handicap to one of the players in the match as a way of offering an alternative to the normal odds. Traditionally, the stronger player gives a handicap of a number of sets or games to the weaker opponent, though some betting sites offer multiple handicaps for you to choose from at various odds.
The most common form of handicap betting is based on the number of sets each player will win. For instance, imagine the following market on a three-set match:
Rafael Nadal (-1.5): 2.30
Dominic Thiem (+1.5): 1.65
In this example, if you bet on Nadal, you will need him to win two sets to none in order to win the bet. This is because the handicap on Nadal is -1.5 sets, so he must win by at least two to cover that handicap. Meanwhile, if you bet on Thiem, he will receive a bonus of 1.5 sets to his total at the end of the match. That means you will win if Thiem wins the match, but also if he loses two sets to one.
Traditionally, handicaps feature a half-set or half-game to ensure there won't be a tie in that market. In the case where you bet on a player with a one-set handicap, and they win by exactly one set, the bet will push. This means that you would receive your bet back, but you would not earn any winnings.
Accumulators in Tennis
An accumulator is an attempt to stack multiple bets together in order to secure a larger payout if all of those bets win. For instance, you might bet on five different players each to win their next match in a tournament. If all five win, your accumulator is a winner. However, if just one player loses, you also lose your bet.
Since it is far more difficult to hit multiple bets, large accumulators offer massive payouts. For instance, you may not feel it's worthwhile to bet on a single player with 1.50 odds of winning. But if you bet on 10 different players in an accumulator, and each player is a 1.50 favourite, your accumulator will now offer a payout of £57.67 on a £1 bet.
Because accumulators are difficult to hit, most gamblers make small bets on them, especially when linking several wagers together. Remember, you can still win quite big when you hit an accumulator, even if your initial stake was small.
Tennis Betting Odds Explained
A key part of tennis betting online is odds. If you don't understand what tennis odds mean then you can't make intelligent bets.
Be aware that there are lots of different odds formats. Whenever you visit a tennis betting site, ensure odds are set to decimal because they are easiest to understand. You can adjust the odds format in your settings on the homepage.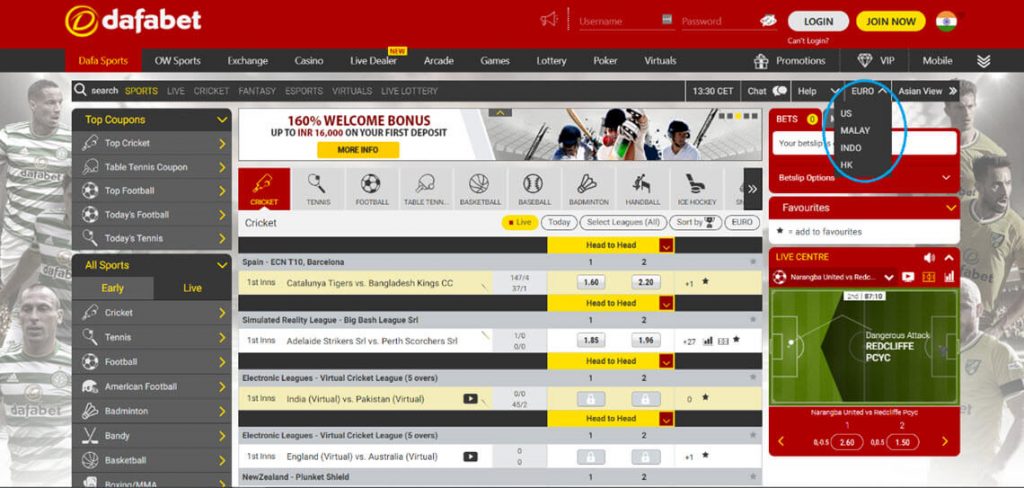 Understanding Tennis Odds in Decimal
We will use decimal odds (also called European odds), to explain tennis betting. Decimal odds show you what the total return (profit and your original stake) would be based on a bet of 1 unit.For example, if you saw odds of 2.00 and you bet ₹1000 your return would be ₹2000. You win ₹1000 and get your original ₹1000 bet (stake) returned as well, making a total of ₹2000.
Decimal odds with round numbers are easy to calculate, for example, a bet at 5.00 returns 5 times the stake, 10.00 is 10 times, but it gets more complicated with odds like 2.30 or 1.75.
The easiest way to work out your potential returns is by multiplying the amount you want to bet by the odds. The number you get is the total return for that bet.
For example, 2.30 x ₹1000 = ₹2300 and 1.75x ₹1000 = ₹1750.
Understanding tennis odds in this way is useful because it allows you to look at a list of matches or betting markets and identify what you're interested in. But you can also use the betslip at tennis betting sites to get an exact calculation of potential returns.
When you click on the bet you want to make, it will automatically appear in the betslip which is usually on the right-hand side of the page. From there you can enter the stake and look at potential returns. You can also adjust your stake and add or remove bets from the betslip.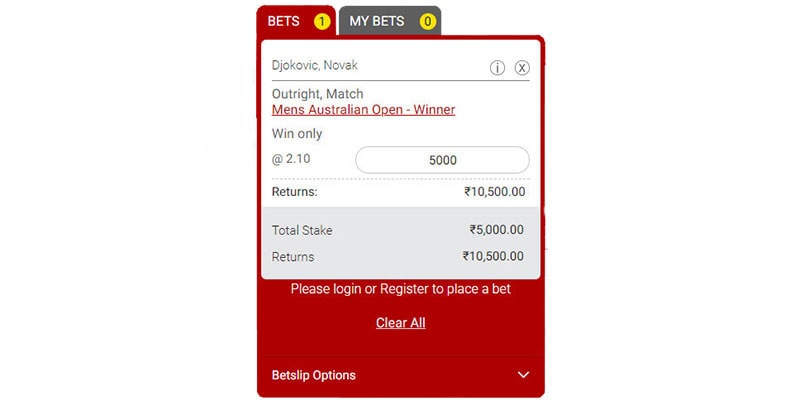 Grand Slams: the Biggest Tennis Events
The Grand Slams are the four most important and prestigious events on the tennis calendar. Both men and women compete at each of these tournaments, with all of the top players in the world fighting through 128-player fields in the hopes of winning a title. The Grand Slam tournaments are so important that the careers of top players are judged almost entirely on how well they do in these events.
Not surprisingly, the Grand Slams also attract more tennis bets than any other tournaments. Here's a closer look at each of the four events and what makes each one special.
The Australian Open
The Australian Open is held every January, making it the first major tournament of the calendar year. This hard-court tournament takes place at Melbourne Park, and offers the first chance each season to see all of the world's top players compete against each other, meaning it often previews the rest of the year.
Margaret Court holds the most career Australian Open titles of any player, having won the event 11 times. Novak Djokovic holds the record for most men's titles with nine.
The French Open
Football betting is popular no matter where you are in the world. Billions of people around the globe watch major European competitions like the Premier League. Every year, England's top football league commands an audience of 4.7 billion, with millions of those dedicated fans in India. All our recommended sports betting sites offer markets on football, so, no matter what match you're looking for, we've got you covered.
Wimbledon
Officially known as the Championships, Wimbledon, this grass-court Grand Slam has been held at the All England Club in London since 1877. It is arguably the most prestigious of all of the Grand Slam tournaments due to its long history. Wimbledon also features the most formal setting in tennis: all competitors must abide by a strict all-white dress code, while spectators often dine on strawberries and cream.
Roger Federer was more successful than any other man at Wimbledon, winning the title eight times. But Martina Navratilova did him one better, winning the women's championship at Wimbledon nine times in her career. Wimbledon traditionally began in late June, but now takes place entirely in July.
US Open
The US Open is the final Grand Slam of the year, beginning during the final week of August. This hard-court tournament features energetic and enthusiastic crowds which are given a bit more licence to make noise than in many other events, making this perhaps the most fan-friendly of the Grand Slam tournaments.
First held in 1881, the record books at the US Open feature some of the greatest legends from the sport's past. William Larned, Richard Sears, and Bill Tilden all won the men's event seven times, while Molla Mallory has the most women's titles with eight.
Top Tennis Betting Tips
Our team has many years' experience with online betting, so we've created this list of tennis betting tips to help you out. These are things we think are important for anyone to be aware of before they start tennis betting:
Take Advantage of Bonuses
As you can see from our list of recommendations, all the top tennis and promotions. When you join new sites, take advantage of the offers you get because they're only available once.
They give you the chance to bet on tennis matches risk free, so if you were going to bet anyway, why not use them? Remember, you will have to bet a certain amount of times to meet wagering requirements so double check the terms and conditions so you know what to expect before you start.
Manage Your Money
Good bankroll management is important in any online sports betting, including tennis. It means you set out exactly what you're willing to spend and allows you to calculate how much is the right amount to wager on each bet.
Having a system in place will allow you to make better decisions and stop you from wasting money. For example, you can create a budget, and then only use 1% of it per bet or 2% for a heavy favourite. If you use this set amount every time, your bankroll will last a long time and you won't have to keep making deposits.
Also, bankroll management stops you chasing your losses. When you have a set amount you want to use for tennis betting online it's easier to stick to. If you lose, don't make another bet and try to recover your losses. When people do this, they often make bad choices and end up losing more.
Become a Tennis Betting Expert
The more you know about tennis betting, the more accurately you can predict what's going to happen. If you can get to a level where you know tennis better than the bookmakers, you're in a powerful position. For example, use the ATP website and take advantage of the extensive statistics that are available. Study each match you intend to bet on, find out the form of the players, look at their previous record in this tournament, find out if they like this surface and gain as much information as possible. You can then use this knowledge to make more informed bets.
Shop Around
We only recommend sites that have industry leading odds, however no single site will have the best odds on every match. In order to get the very best odds, you need to shop around and check at several bookmakers.By shopping around, you can have a major impact on your long-term profits and by the end of a tennis season, this could add up to a serious amount.
The Best Tennis Betting Strategy
There are lots of pro tips for online sports betting. It's possible for bettors of any level to try tennis betting strategies, and it is much less complicated than some other techniques. The strategy is to bet on 'over' in the over/under total games in the match and here's how it works:
Identify Strong Servers
In tennis a player must win 6 games to win a set and also win by 2 clear games, so you can't win a set 6-5. If the score reaches 6-6, the set goes to a tiebreaker. This is common with players who are strong on their own serve, because it's difficult for their opponent to break serve (win a game when their opponent is serving) and get the 2-game advantage needed to win the set. If both players win every game they serve, each set will reach 6-6.
The strategy works by identifying a match with two players that are strong on their own serves. For example, John Isner and Milos Raonic. At the time of writing, they win 92.9% and 93.5% of their service games in the current season. This means other players break their serve rarely and lots of sets will have a high number of games.
If you can identify two players who are both strong on their own serve, you can confidently say that most sets will be high scoring and that there will be a high number of games in the match. You can take advantage of these stats and bet on 'over' in the over/under total games.
As we explained in the 'types of tennis bet' section above, in over/under bets you pick whether the number of games in a match will be over or under a specific number decided by the betting site. For example, 23.5 total games in the match.
To do this, find the match at the tennis betting site you are using and view all markets that are available. In this list you will see a section for 'totals'. Under totals, there will be an option to bet on over or under a total number of games.
We have used these 2 players as an example to explain the strategy, however they are some of the most well-known in the world and have topped the statistical charts for serving stats for many years. It's unlikely that you would get excellent odds for an over 23.5 games bet in a match between them.
Hopefully though, the principle of the strategy is still clear. Identify players that are highly likely to win games when they serve and you can predict when a match will have a high number of games.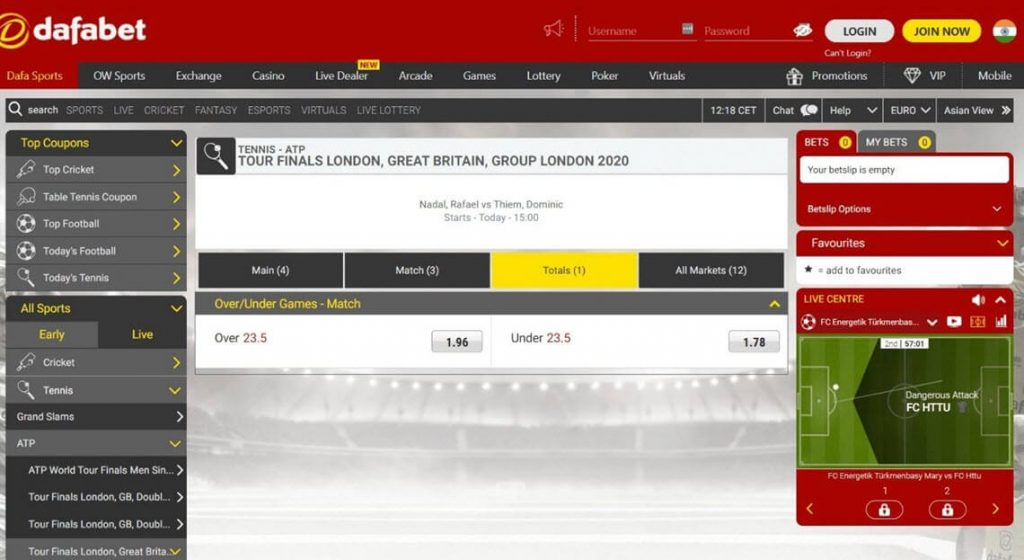 Find Players with Poor Return Stats
To extend this strategy, you can also find matches where players have poor return statistics too. If a player doesn't return very well, it is very unlikely that they will win games when their opponents are serving. Nick Kyrgios, for example, loses over 85% of all return games but wins 88.5% of his own service games, so he is a great candidate.
He is statistically unlikely to break his opponent and finish a set quickly, but he's also unlikely to get broken, so you know his matches are likely to have a lot of games.
The key to making this strategy a success is researching and trying to find matches with lesser known players that have the right traits statistically. If you can find a player ranked 100th in the world, with a strong serve but poor returning, consider making a bet.
Start Betting on Tennis in Minutes!
Armed with the information above, you should be ready to start enjoying tennis betting online. Now that you've learned about the types of tennis bets and even learned a bit of tennis betting strategy, you can start placing bets with confidence. Get started right now by signing up with one of our recommended tennis betting sites below!
Frequently Asked Questions
Q.
How can I bet on tennis in India?
A.
You can bet on tennis at any of the trusted
tennis betting sites
that we've recommended here on this page. Each of these sites will allow you to bet on tennis tournaments from around the world, from Grand Slams down to the smallest events on secondary tours.
Q.
Where can I bet on tennis in India?
A.
There are a number of great
sports betting sites
that offer tennis betting odds to Indian bettors. Our team of experts has done the research to rate and review only the best sites before making our recommendations. Each of our top sites is safe, reliable, and offers tennis bets in India.
Q.
How do you always win in tennis betting?
A.
There's no way to guarantee you will always win when you bet on tennis. However, you can improve your odds by doing research and understanding how to evaluate odds and payouts. For some tips you can apply to tennis betting, read our
complete guide to sports betting
.
Q.
Is tennis betting legal in India?
A.
It is completely legal for Indians in most states to bet on tennis and other sports. While sites in India do not offer such betting, many trusted foreign sites allow Indian gamblers to place bets with them safely and legally. For more specific details, please refer to the laws of your state, as India does not have federal laws related to gambling.
Q.
How does line betting work in tennis?
A.
Line betting – also known as handicap betting or spread betting – makes one player the favourite by a certain number of sets or games. A bet on the favourite only wins if that player "covers the spread" by winning by more than that handicap. A wager on the underdog wins if that player wins, or if they lose by less than the handicap amount.