The Best Sports Betting Welcome Bonus in India 2023 – Updated List
Finding the best welcome bonus codes for sportsbooks isn't always easy, that's why we're here to help. On this page, you can find an updated list of the best bookmaker sign-up bonuses available to sports fans in India. This includes no deposit welcome bonuses, match deposit bonuses, and betting app promotions.
Claim one of our recommended sportsbook sign up bonuses below, or read on to learn more about what makes a great welcome bonus and how to get your hands on one
Show Me More
Show Me Less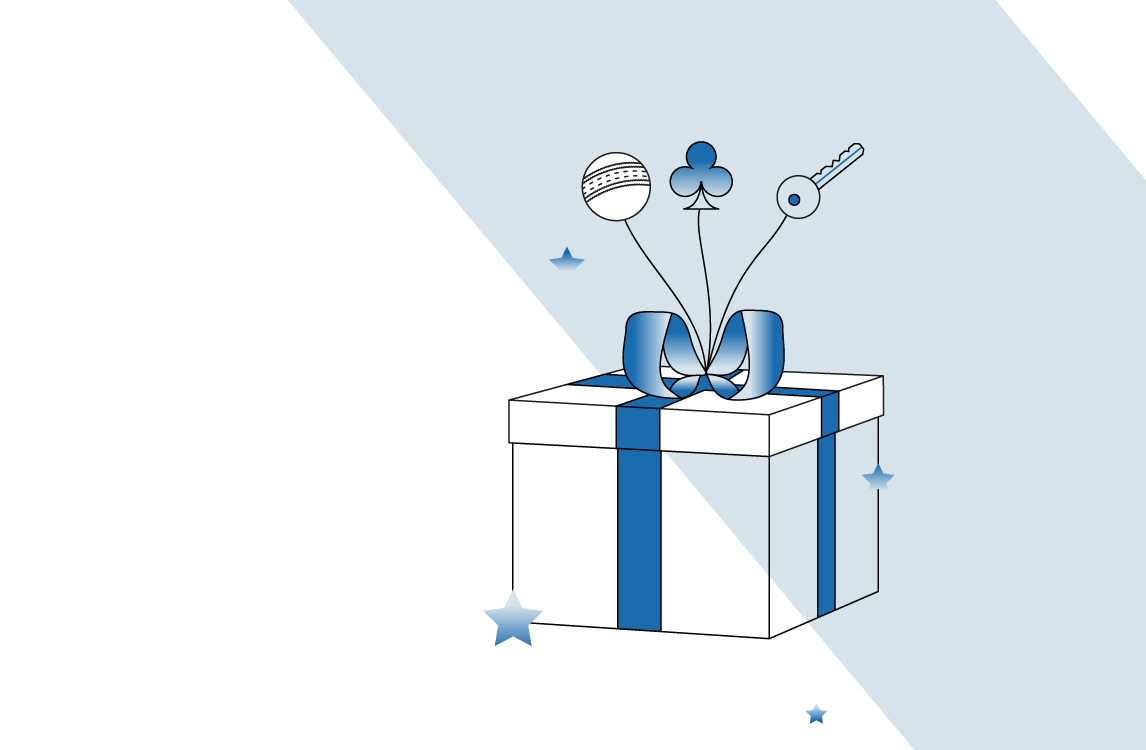 Best Sports Betting Welcome Bonuses November 29, 2023
How We Rate Sports Betting Welcome Bonuses in India
Newbies often look for the biggest figure around and assume it must be the best sportsbook welcome bonus. However, there's a lot more to the very best betting sign up bonus offers – ones that offer true value.
Sticking with our recommendations is a safe bet. We research and review sports betting sites, looking carefully at the welcome bonus terms and conditions. Here are four key things we consider when choosing our best bookies sign up offers:
Safety and Licenses
There's no point picking up a sports betting welcome bonus if the site isn't safe. We complete a thorough background check on the sportsbook, make real money deposits and withdrawals, and test the site for fairness. We also only recommend welcome bonuses from sports betting sites with respected licenses and strong security measures.
Size of the Bonus
The size of a welcome bonus is certainly important, but they can vary a lot. Remember, the bigger the bonus, the more likely it is the site has special conditions in place to stop you cashing out. We find bonuses that hit that sweet spot between a good-sized offer with good conditions.
Wagering Requirements
Almost invariably, sportsbook welcome bonuses will come with certain wagering requirements. This means you'll have to bet the amount the bookie gave you as a bonus a certain number of times before it becomes real, withdrawable cash. We look for the lowest wagering requirements, to ensure you're getting a rewarding offer.
Restrictions
Often, sportsbooks welcome bonuses come with some restrictions. For example, if you're interested in football betting, you won't be able to back both teams and the draw in a single match, as this would guarantee you a win. There are also usually restrictions on the minimum odds. You can't just make super safe bets with bonuses; you often have to wager with odds of at least 2.00. We look for bonuses with fair restrictions, so you still have a chance of making a profit.
Terms and Conditions
Besides wagering requirements and restrictions, general terms and conditions can make or break a sportsbook welcome bonus. Certain offers have tiny maximum wins, making them almost pointless to play. We double check to see if an offer is too good to be true, so you don't have to.
What is a Sportsbook Welcome Bonus?
A sportsbook welcome bonus is an offer from a betting site that gives you some sort of free bet, refund, or free credit when you join. You can only claim once – the very first time you play at the site. This will often be when you make your initial deposit. Because of this, you might want to make a big deposit for your first time. You could effectively double or triple your money before you even place a bet.
Often sports betting sites display their offers as percentages. The most common ones online are 100% sportsbook sign up bonuses. For example, '100% up to ₹10000' – this means the site will give you a bonus that is 100% of your deposit up to a certain amount. In this example, if you deposit ₹10000, you'll also get ₹10000 as a bonus.
Not all sports betting welcome bonuses include deposit bonuses. Some sites will encourage you to join them by offering you a free bet, or even a bunch of free bets. Of course, there are always terms and conditions attached to sportsbook welcome bonuses. You won't simply be able to grab the bonus and cash it out, so make sure you read these carefully before you dive in.
Different Types of Sports Betting Welcome Bonuses
You can find terms like sign up bonus and sportsbook welcome bonus on more or less all sports betting sites, but what exactly do they mean? There are many types of welcome bonuses. Below, we'll break down a few of the most common ones.
Deposit Bonus
The most common type of sports sign up bonus is a deposit bonus – or, more specifically, a first deposit bonus. This is an opportunity for you to earn extra betting funds only partially funded by your own money.
Deposit bonuses could be any value from 10% to 100% or even 200%. In general, the higher the percentage is, the higher the wagering requirements are likely to be. The best first deposit bonuses have realistic restrictions where you could feasibly cash out after a few decent bets.
Example: 50% up to ₹5000 If you deposit ₹5000, the betting site will give you 50% of that number as a bonus – ₹2500
Welcome Bonus Packages
A welcome bonus, or welcome package, may comprise one or several of these betting promotions combined.
For instance, you might receive a first deposit bonus plus a free bet. If the sportsbook also operates an online casino, they may try to cross-sell you into their other products. For example, you could receive a 100% deposit bonus on sports and also 20 free spins on a casino slot game.
Free Bets
Free bets are just another term for a type of sportsbook welcome bonus. Usually, by depositing a specific amount, the betting site will then give you a risk-free or bonus bet for the same amount.
The terms free bet, bonus and promotion are used interchangeably. One site might call their offer a free bet, but it is exactly the same as what another site calls a deposit bonus. The main piece of advice with any of these offers is to check the t's and c's before accepting.
Matched Bets
Sometimes, an online sportsbook will offer to match your bet. This effectively gives you a risk-free bonus to play with after you have made a bet. For example, bet ₹5000 and receive ₹5000 as a free bet. These have the same potential restrictions as any other bonus bet, so it's essential that you inspect the wagering requirements before you make your bet.
The term 'matched betting' can also refer to a system some players use to beat the bookies. In the matched betting technique, players will take advantage of free bets offered by websites, then lay them elsewhere. This means they cover both sides of a bet, but one side is using a free bet.
No Deposit Bonuses
As their name suggests, no deposit welcome bonuses don't require you to fund your account. Instead, the sportsbook gives you some free cash, or a free bet, to tempt you to play. Yes, no deposit bonuses are real – but they're very tough to find.
Nonetheless, no deposit welcome bonuses can spring up on rare occasions. And, when they do, Asiabet will find them.
How to Claim a Deposit Welcome Bonus
Once you've found a great deposit welcome bonus, simply follow this step-by-step guide to claim it at a sports betting site.
01
Sign Up and Check the Terms
Browse the list of offers on this page and find one that appeals to you. Then, simply click through to the sportsbook and register. To do this, you must supply a few personal details such as your name, date of birth, and email address.
Next, you need to check the terms and conditions. Whilst we update our list of the best sports betting welcome bonuses regularly, you need to be sure you're aware of what deposit you must make to earn your bonus.
As the name suggests, to claim a deposit welcome bonus, you need to fund your account. Head to the cashier and select your preferred payment method. Ensure you input an amount which makes you eligible for the bonus, then follow the on-screen process. In a few minutes, your deposit will be in your account.
Once your deposit lands in your account, so will your bonus funds. Double check they are there and, if not, don't hesitate to contact customer service.
Finally, the exciting part. Use your bonus funds to bet on your favourite sports! If you're bet comes in, you can use your winnings to make more bets, or start the process of clearing wagering requirements to cash out.
How to Claim a No Deposit Welcome Bonus
Found a rare no deposit welcome bonus? Use our guide to claim it now. Be quick, you don't want it to get away!
01
Register with the Sportsbook
Firstly, you'll need to sign up to the sports betting site. Before doing so, you should make sure the offer is still active, especially if the no deposit welcome bonus is the only thing enticing you to the site.
To register, you need to supply a few personal details such as your name, address, date of birth and email.
Some no deposit welcome bonuses require you to enter a code during, or after, the registration process. Make a note of the code when you find an offer and enter it when asked. If you forget your no deposit bonus code, you can usually find it on the sportsbook's 'Bonuses' or 'Promotions' page.
As no deposit bonuses don't require you to fund your account, you can now use your welcome bonus to bet on your favourite sports. Always double check the funds are in your account by visiting the cashier page first, and make sure you adhere to any special terms and conditions.
Tips for Claiming Welcome Bonuses at Sports Betting Sites
If you want to claim a welcome bonus, the best tip we can give you is to check out our list of reviews and recommendations on this page. We cover everything you'll need to understand how good a bonus is, so we've done the hard work for you.
However, we understand that savvy punters sometimes like to do their own research. If that sounds like you, here are three tips for finding the best online betting bonus offers:
Ignore the Headline
As you become more accustomed to the way sportsbooks try to reel in players, you'll learn to ignore the headline of any welcome bonus. Instead, you'll instinctively head to the terms and conditions. That's where you can learn the true value of a welcome bonus. Find out the wagering requirements and look for any red flags. If everything checks out, you can consider the bonus.
Seek Small Prizes
Again, this is the mark of an experienced bonus hunter. At first, you'll probably start out by looking for the biggest promotions around. But, as time goes by, you'll get more excited at the modest welcome bonuses. Why? Because experience will teach you they usually have tiny wagering requirements. That increases your chance of unlocking the bonus cash and taking it to the bank.
Try New Sites
One of the great things about online betting is that there is no shortage of sites. That means there are loads of different sportsbook welcome bonuses available for you. Read our reviews and check out new sites and then claim bonuses at your favourites.
Find the Best Sports Betting App Welcome Bonuses
Many of India's best sports betting apps also offer great welcome bonuses. This means you can claim rewarding offers whenever and wherever you are. Moreover, sometimes the sportsbook may offer you a special welcome package for playing via your mobile, rather than desktop.
To find the best sports betting app welcome bonuses, you simply need to check out whether our recommended casino offers an app for your device. Whether you want to claim a welcome bonus on iPhone or Android, there's something for everyone. Once you find a great offer, download the app from the App Store or the Google Play store, and register to receive your funds.
Join the Best Sports Betting Sites with Welcome Bonuses Now
If you're ready to claim the best welcome bonuses for sports betting in India, look no further. Below, we offer you a handpicked selection of our most recommended sports betting sites with rewarding welcome packages.
Check out the offers below, hit the 'Join Now' button, and claim your welcome bonus. What're you waiting for?
Frequently Asked Questions
Q.
What are the best betting site welcome bonuses?
A.
The
best sports betting welcome bonuses
are those that offer you something rewarding, with realistic terms and conditions. All of our recommended betting site welcome bonuses provide you with a good amount of bonus funds and fair wagering requirements. Remember, the biggest bonuses aren't always the best – they should also give you a real chance of cashing out.
Q.
What is a sportsbook welcome bonus?
A.
A sportsbook welcome bonus is a one-time offer you can claim when you register with a sports betting site. There are various bonuses available, including no deposit welcome bonuses, deposit match welcome bonuses,
free bets
, and matched bets. They are often the most generous bonuses you'll claim in your sports betting career.
Q.
How do I choose which betting sign up offer is best for me?
A.
Even at
the best sports betting sites in India
, offers vary a lot. It's about getting a balance between a good amount of bonus funds and good terms and conditions. Often the bigger the sportsbook sign up bonus, the more you have to wager it. Find the balance that works best for you.
Q.
What sports can I bet on with a welcome bonus?
A.
Usually, you can use a sports betting welcome bonus to bet on any sport you want. This means you can place wagers on favourite
Indian sports such as cricket
or football. Always check the terms and conditions, however, to make sure this is the case. A bonus you can't use on bets you want to make is no bonus at all.
Q.
Can I withdraw sports betting welcome bonus funds?
A.
You can only withdraw your welcome bonus funds once you have cleared wagering requirements. Wagering requirements signify the number of times you need to wager the bonus funds before you can withdraw. For instance, if you claim a ₹2,000 welcome bonus, with wagering requirements of 5x, you will need to place at least ₹10,000 worth of bets before you can withdraw.