Best Horse Racing Betting Sites & Expert Guide
Horse racing betting is one of the few legal forms of gambling in India, so it's very popular. If you want to bet online, our team of experts have studied hundreds of horse betting sites and narrowed them down to the best ones in the list below.
If you want to get the most out of your horse racing bets, we also give top tips that professional gamblers use and explain every aspect of horse racing betting below.
Sign up to one of our recommended sites and start betting today, or keep reading to learn more about horse racing betting.
Show Me More
Show Me Less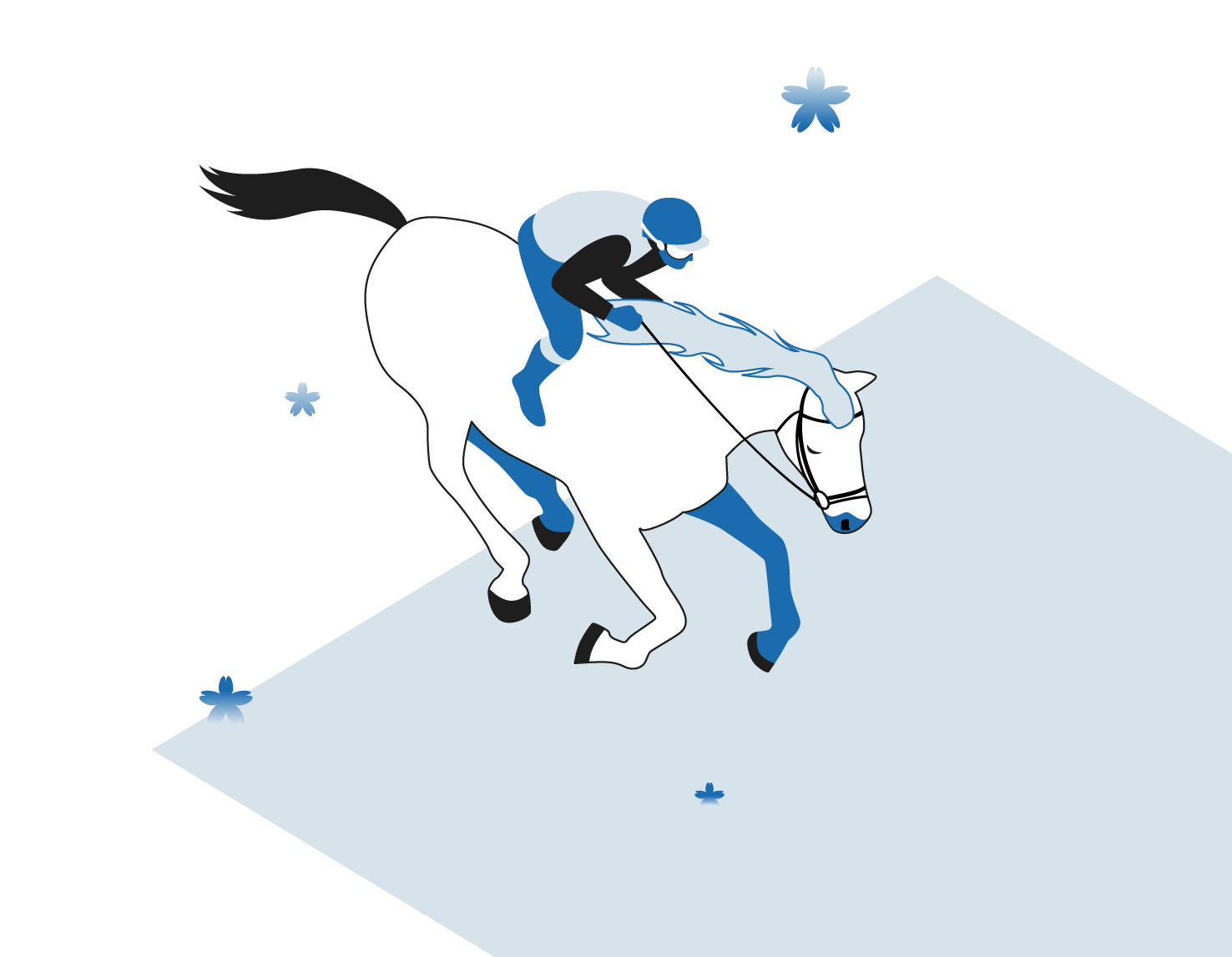 Best Horse Racing Betting Sites in India November 27, 2023
How to Bet on Horse Racing Online
Ready to start online horse race betting in India? Here's how to do it:
Before you bet, you must create an account at a betting site. To do this, you must provide information such as a valid email address, home address, name, and username.
Also, the site may request valid ID to confirm your age. Watch our video on how to create a Dafabet account in India to see a walkthrough of the process.
Go to the cashier of the betting site and make a deposit through the payment method of your choice.
Follow the instructions on the site and they should process your payment within a few minutes, however, bank transfers can take up to 4 hours.
On the homepage, you will see a list of sports. Select horse racing and then choose the race you want to bet on from the list.
When you click on a race, it will show you the list of horses running and the odds for a variety of bets.
Choose the bet you want, and it will get added to your betslip.
In the betslip, enter your stake (how much you want to bet) and check your potential returns.
If you're happy, click the 'confirm' or 'place bet' button and that's it. All that's left to do is enjoy the race.
Types of Online Horse Race Betting in India
Top horse racing betting sites offer a wide range of bets. If you're new to horse betting this can be a bit confusing, that's why we explain each one here:
Basic Bets
Win – Bet on the horse you think will finish first. This is the simplest horse racing bet you can make.
Place – Pick the horse that finishes first or second.
Show – Pick the horse that finishes first, second or third.
Single Race Exotic Bets
Exacta – Pick the horses that finish first and second in the correct order to win.
Quinella – Pick the horses that finish first and second in any order to win.
Trifecta – Pick the horses that finish first, second and third in the correct order to win.
Superfecta – Pick the horses that finish first, second, third and fourth in the correct order to win.
Hi-5 – Pick the horses that finish first, second, third, fourth and fifth in the correct order to win.
Tanala – Similar to a trifecta, in a tanala bet you have to select the horses that will come 1st, 2nd and 3rd in a race. If you pick the horse that finishes 1st but the 2nd and 3rd are in the wrong order, you still win but get a smaller pay out.
Show Me More
Show Me Less
Multi-Race Exotic Bets
Daily Double – Pick the winning horses in two consecutive races. Both results will need to be correct for you to win.
Pick 3 / Pick 4 / Pick 5/ Pick 6 – Pick the winning horses in three, four, five or six consecutive races. All the horses you picked will need to win, if one fails, you lose the bet.
Accumulator – With an accumulator you choose up to 20 or 25 different selections and combine them into one bet, but you only win if all your selections are correct. The more bets you add, the bigger the odds, but the more difficult it is. For example, you could pick 3 horses to win and 3 to place across 6 races. In the first 5 races, all your picks are correct, but in the last, the horse doesn't place so you win nothing.
Bar Bet – Originally introduced in India at the Royal Western India Turf Club, a bar bet is a bet on any horse other than the favourite to win.
Kenchi – In a kenchi, you chose a minimum of 3 and maximum of 5 horses to win different races. A kenchi guarantees you a pay out if at least 2 of your selections are winners.
Horse Racing in India – Fixed Odds vs Tote Odds
Horse racing odds vary from one bookmaker to another, so it's important that you shop around to get the best odds possible. But there's another factor you should consider when placing your horse racing bets: whether to choose between fixed odds and tote odds. It's essential that you learn the difference, as it can affect your winnings.
Fixed Odds
When you place a horse racing bet with fixed odds, you know exactly how much you will win. When you confirm the bet, the odds stay fixed no matter what happens, as the name suggests.
Odds constantly change leading up to a race but, when you place a fixed odds bet, the bookmakers lock the odds for you. If you make a bet at odds of 5.00 and you win, the betting site will pay you at odds of 5.00.
Tote Odds
If you make a bet with tote odds, they can increase or decrease. Although you'll receive approximate odds when you make the bet, this could change if many people make a bet on the same race after you do.
For example, the favourite for a race might have odds of 6.00 the day before, but on the day of the race, lots more people wager on him, so the bookmakers reduce their odds to 5.00. The reverse could also happen, though, and the odds could increase from 6.00 to 7.00. Tote odds are flexible and open to change, even after you've confirmed your bet.
Are Fixed or Tote Odds Better for Horse Racing Betting?
It depends on the situation. We will use examples below to explain:
Example 1 – You bet on a horse that is one of the favourites at fixed odds of 8.00 a week before a race. By the day of the race, other horses have become stronger favourites than yours and now have smaller odds.
When the odds change on one horse, they also change on the others, so when one horse becomes a strong favourite and the odds get smaller, odds on the other horses get bigger.
So, the odds on your horse have now increased to 10.00. If you'd taken tote odds, you would get paid out more than you would with fixed odds.
Example 2 – You bet on a horse with tote odds of 8.00 a week before a race, but by race day, your horse has odds of 5.00. If your bet wins, the pay out will be at 5.00, not 8.00.
Here, the odds for your horse have got smaller, and because you choose tote odds, not fixed, you will get a smaller pay out. In this example, fixed odds would have been a better choice.
Odds can get bigger or smaller at any time, as it depends on how other people bet. Horse racing betting sites adjust their odds depending on what has already been wagered so they can try to guarantee a profit.
The good thing is, all of our recommended horse racing betting sites offer you both fixed and tote odds. When you add a bet to the betslip, you will have the option whether to keep the fixed odds or choose tote and allow for fluctuations.
There is no correct answer here as it depends on the situation, so try to judge the market as best you can and predict whether there will be big changes in the odds. If you think your horse's odds could get bigger, take tote odds. If you think they will only get smaller, stick with fixed.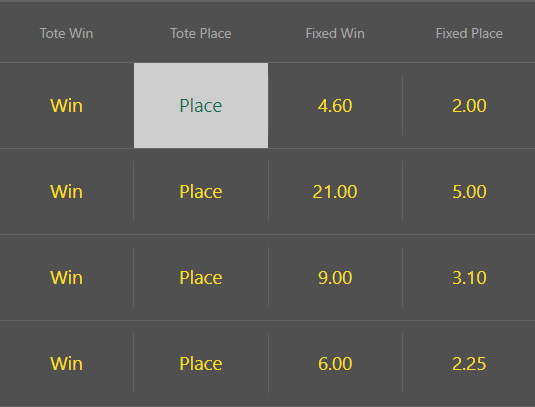 Horse Racing Betting Online – Pay Out Rules
It's important to be aware of the rules for horse racing at any betting site you use. What happens if stewards disqualify your horse, or it doesn't run in the race as planned, for example?
One site we recommend Bet365, pays out if your horse is disqualified after it wins, or if your horse comes first as the result of a disqualification. They also refund any bets made on horses that don't start the race (non-runners).
This won't be the same at every site, though. So, make sure you check the rules and conditions before you make a bet so you know what to expect.
India Horse Racing Betting Tips
Horse betting online in India depends on luck, but also a sizeable amount of skill. Following the right strategy can help increase your chances of winning.
Our expert team has listed top Indian horse racing tips below. Use these pro tips and you will get the most out of your bets and increase long-term profits:
Consider Money Back and Faller Insurance
Although you shouldn't let promotions dictate your bets, watch out for money back offers and faller insurance. Money back offers return your original bet if you come close but just miss out. For example: if you bet on a horse to win, but it finishes second. Faller insurance gives you your money back if your horse falls. If these offers are available on the races you intended to bet on, take them.
Manage Your Money
Bankroll management is really important for horse racing betting. You need to define how much you can afford to bet and manage your money properly. This will protect you from spending too much or chasing your losses. These are both things you should never do.
The Biggest Horse Races in India
There are plenty of very popular horse races in India and you can bet on all the action online. Here are a handful of the biggest ones:
The Indian Derby
This iconic 2,400-metre race takes place on the first Sunday of February each year. It's run at the Mahalaxmi Racecourse in Mumbai and boasts one of India's highest cash prizes for a single sports event.
It is named after the Epsom Derby, one of the UK's most prestigious horse races that takes place at Epsom Downs Racecourse, Surrey.
Indian 1000 Guineas
The Indian 1000 guineas runs over a mile and is part of the Indian 'Classics'. It takes place every year in December at the Mahalaxmi Racecourse, Mumbai.
The event is organised by the Royal Western India Turf Club in Mumbai and just like the Indian Derby, the 1000 Guineas is based on a British equivalent.
Indian 2000 Guineas
Another one of the five annual 'Classics' in India, the Indian 2000 Guineas is a popular race which famous Indian racehorse, Sir Cecil, won in the past.
It also takes place at the Mahalaxmi Racecourse, Mumbai under the auspices of the RWITC. The race is open to Indian-born colts and fillies 3-years-old and younger.
Indian Oaks
The Indian Oaks happens at the end of January and is run over a distance of one mile and 4 furlongs at the Mahalaxmi Racecourse.
The race was first run in 1943-44 and is only open to Indian 4-year-old thoroughbred fillies. In the last 10 years, trainer Pesi Shroff has been responsible for the winning horse on 7 occasions.
Indian St Leger
Unlike the other five Indian 'Classics' the Indian St leger takes place at the Pune Race Course, Pune rather than in Mumbai, however the Royal Western India Turf Club still manage the race.
The event takes place in September of each year, is run over 2800 meters and is only open to 4-year-old fillies.
Invitation Weekend
The Invitation Weekend has no fixed location, and it alternates among the top turf authorities across India. Taking place over the first weekend of March, the showpiece event awards a top prize of ₹1 crore.
There are 16 races in total on each Invitation Weekend with 120 horses invited to take part. Recent holders of the event include Bangalore Turf Club and Mysore Race Club.
Horse Racing Betting Tracks in India
Horse racing in India has a long history, with the first racetrack being opened in 1777. Nowadays there are 7 'turf clubs' (horse racing organisations) across the country. They are:
Bangalore Turf Club
Based in the state capital of Bengaluru, the Bangalore Turf Club was founded in 1920. BTC has one right-handed, oval course measuring approximately 1950 meters and runs both winter and summer seasons.
Hyderabad Race Club
Home to the Deccan Derby, the Hyderabad Race Club has a flat track which has been in use since 1886. Hyderabad is also the host of important Indian races including the President of India Gold Cup, the Nizam's Gold Cup, the Fillies Championship Stakes and the Colts Championship Stakes.
Royal Calcutta Turf Club
The Royal Calcutta Turf Club was established under British rule in India and the grounds of the club even house a marble monument to Queen Victoria. The Club has 2 seasons, the monsoon meet from July to October and the cold weather meet from November to April.
Royal Western India Turf Club
The RWITC hosts races at the Mahalaxmi Racecourse in Mumbai from November to April and Pune from July to October. The turf club is responsible for two of the biggest races on the Indian horse racing betting calendar, the Indian Derby and the Indian St Leger.
The Mysore Race Club
The Mysore Race Club is in Mysore in the Karnataka province. The Mysore Derby season runs from November to February and then May to July every year.
Madras Race Club
The MRC hosts races at Guindy Race Course, the oldest in India. The club is in Chennai (formerly known as Madras), the capital of the state of Tamil Nadu.
Delhi Race Club
The Delhi Race Club is located in India's capital city and is under the control of the Royal Western India Turf Club, who manage races there. Seasons run from August to October and November to April, the biggest race on the calendar is the North Indian Derby.
Show Me More
Show Me Less
Frequently Asked Questions
Q.
Is horse racing legal in India?
A.
Yes, horse racing and
horse racing betting
are both legal in India. It is one of the few legal forms of gambling in India at a national level, as the law considers it a game of skill, not luck.
Q.
Can I use my betting bonus on horse racing?
A.
Yes, and there are plenty of special
free bet deals
that you can take advantage of. A lot of them also apply to horse racing specifically. Money back, faller insurance, and best odds guaranteed are just some of the many offers you can enjoy on horse betting.
Q.
Can I deposit Indian rupees on a horse racing site?
A.
Yes, you can bet on horse racing in rupees at nearly all of our recommended
sports betting sites
. You can even get a bonus in rupees and use it for horse betting.
Q.
Can I bet live on horse racing from Indian sites?
A.
Yes. One of the biggest advantages of using websites to bet on horse races is that you can place a
live bet
at any time.
Q.
How do I get started with horse racing betting?
A.
First join one of our recommended horse racing betting sites. They have been researched and checked by our team, so they are all amongst the best around. After that, make a deposit using the payment method of your choice and find horse racing on the homepage of the site. Choose the race you want to bet on and pick your bet. When you're happy, confirm in the betslip and then sit back and enjoy the race.
Q.
What's the best horse racing betting site in India?
A.
All the sites that made our list of recommendations are great, but if we had to choose just one, we'd go for Bet365. They will give you a bonus in rupee, have excellent odds and fantastic terms and conditions for horse racing.
Q.
Can I earn money on horse racing betting sites?
A.
Yes, you can earn money using online horse race betting in India, but there are no guarantees. Try to make smart bets by doing as much research as possible, understanding the conditions, and if you lose, don't bet again and try to recover your losses.