Best Horse Racing Betting Odds
Our team has researched the market and picked out a list of sportsbooks that offer the best odds for horse racing. If you're ready to bet at one of the leading horse racing sites and get the best odds, sign up today.
If you're looking for information on how horse racing odds work, we have the answers. Discover everything there is to know about horse racing betting odds, including different odds formats and how to get the best odds in this guide.
Show Me More
Show Me Less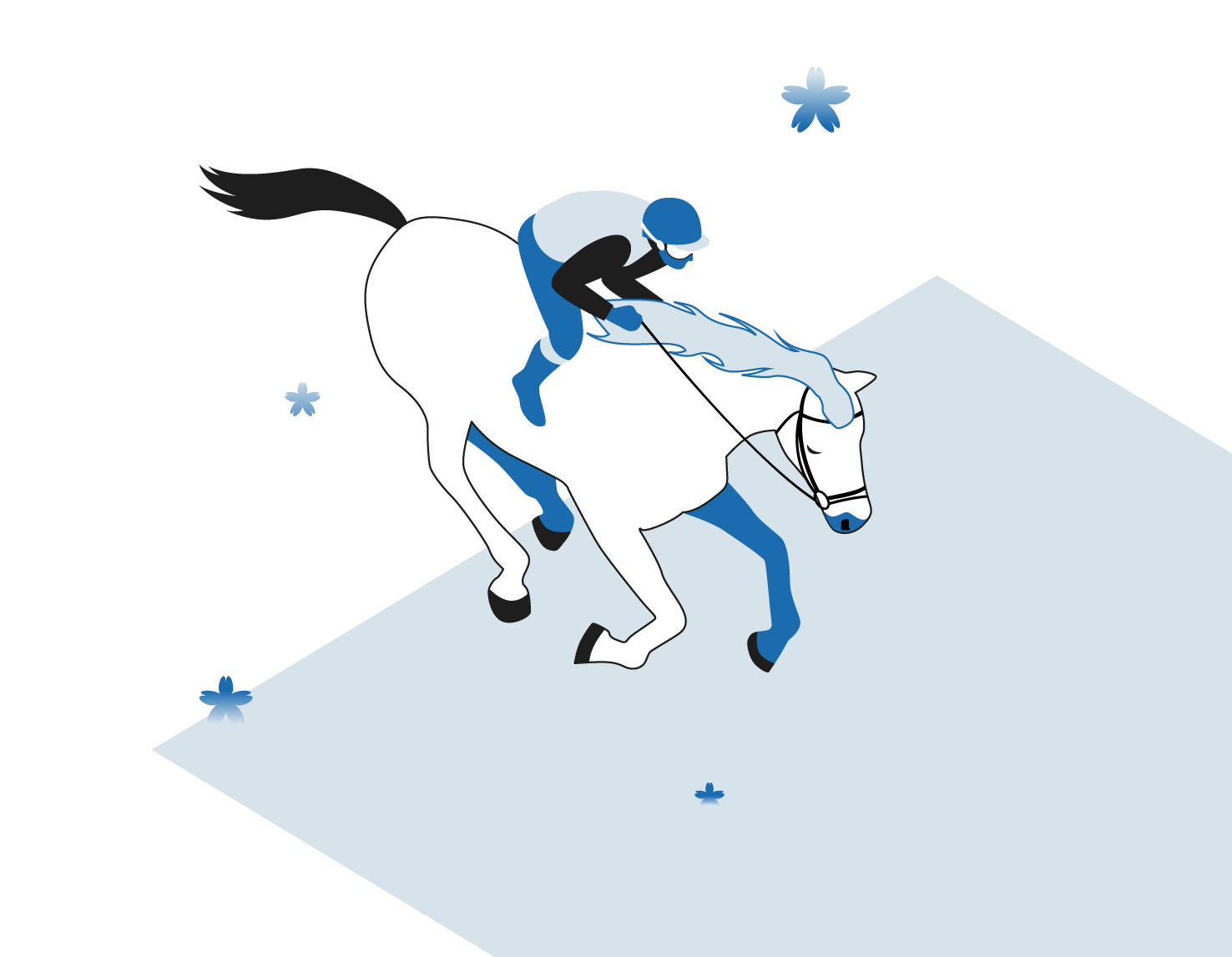 Sites With the Best Horse Racing Odds November 26, 2023
Horse Racing Betting Odds Comparison – How to Get the Best Odds
It pays to compare between several betting sites because, for example, the favourite in a horse race might have odds around 5.00 with most bookmakers, but one site is offering 6.00.
It may not seem like a lot of difference for one bet, but if you add this up over a year or even a lifetime, it can make a vast difference to your profit. However, if you only want to join one site, we recommend Bet365.
They have consistently great odds, and excellent terms and conditions for horse racing. For example, they will refund your bet if your horse is a non-runner (doesn't run in the race it should have). Bet365 also offers regular promotions for horse racing that you can claim in rupees.
On every horse race there will be multiple sportsbooks offering odds. The odds between leading companies will be broadly similar, but there will be fluctuations. If you find the one or two sportsbooks that offer better odds than your regular site, it gives you the opportunity to make more profit from your bets.
We know that if you have found a site you like, most people stick with that. If you always use the same site though, it's inevitable that you will miss out on the best odds occasionally.
All of our recommended sites offer great odds on horse racing, that's why they made our list. We checked their odds on average over a few months on both big, international and smaller, Indian races. The sites we recommend are all industry leaders for odds, but there will still be some differences for each race.
Show Me More
Show Me Less
Horse Racing Odds Explained
When you're trying to understand horse racing odds, the first thing to consider is there are different types of odds. The two most common are fractional odds and decimal odds. Fractional odds were traditionally used for horse racing, but decimal odds have become more popular in recent years.
These two types of horse racing odds are a different way of displaying the same information, and most betting sites allow you to choose which you prefer. However, it's important to understand both, especially if you ever visit a horse racing track.
Show Me More
Show Me Less
Fractional Odds Explained
Let's start with an example to explain fractional odds. You look at the odds for a race and see that one horse has odds of 2/1.
The '2' represents how much money you can win, if the amount you bet (also known as your stake) was '1'. A simple way to think about fractional odds is that if you bet the number on the right, you win the number on the left.
If you bet ₹1000 on the horse at 2/1 and it won the race, you would win ₹2000 and get your original ₹1000 bet back. So, your successful ₹1000 bet at 2/1 has a total return (winnings and original stake) of ₹3000.
You don't have to bet in multiples of 1, we've just chosen those numbers to make it simple to understand. If you bet ₹2500 on a horse at 2/1, you would win ₹5000 and get your ₹2500 stake back.
Show Me More
Show Me Less

Decimal Odds Explained
Now we're going to look at decimal odds. They're even easier to understand than fractional odds, which is why most sports betting sites use them as standard.
You visit a bookmaker and see odds of 3.00 for a horse in an upcoming race. The 3.00 represents the total the bookmaker will return to you on a successful bet of 1 unit. Decimal odds show you the total return, so both the winnings and the original stake combined.
For example, with a ₹1000 bet at 3.00, you would win ₹2000 and also get your original ₹1000 stake back. A total return of ₹3000.
Sound familiar? It should do, because fractional odds of 2/1 and decimal odds of 3.00 are exactly the same. It's just a different way of expressing the same price.
Show Me More
Show Me Less

How Do You Read Horse Racing Odds?
We've started with two very simple examples. Now we're going to go into more detail about the two types of horse racing betting odds, starting with fractional.
In our previous example, we used odds of 2/1. A bet at 2/1 is an example of 'odds-against'. That means that your winnings would be greater than the stake. You can also get odds that are 'odds-on' where you have to bet more than the amount you might win, for example 1/2.
If a horse is 1/2 it means that if you bet ₹2000, you would win ₹1000 and get your stake back. Short odds like this are quite rare in horse racing and are much more common in sports like soccer or tennis, where you're more likely to get one-sided events.
For example, the odds for Roger Federer to win a first-round match at Wimbledon against an unseeded opponent could be as low as 1/15. If you made a bet of ₹1500, your potential winnings would be just ₹100.
You might see a price of 1/1, which is known as 'evens'. If you bet ₹1000, you can win ₹1000, plus you get your initial stake back. An evens or 1/1 fractional price converts to 2.00 in decimal odds.
We explained how a 2/1 bet pays out, so some other odds-against bets will be pretty self-explanatory. A 3/1 bet pays out at three times the stake, a 10/1 bet pays at ten times the stake… You get the idea.
When odds aren't round numbers, things get a little more complicated. For example, you might see fractional odds of 11/8 or 9/4. The same principle applies, if you bet the number on the right, you win the number on the left.
For example, with 11/8, if you bet ₹8000, you'd win ₹11000 and get your original bet back. At 9/4, if you bet ₹4000, you'd win ₹9000, and also get your original stake back.
In decimal odds, 11/8 would be 2.38. A ₹1000 bet at 2.38 would return ₹2380, ₹1380 in winnings, and your ₹1000 stake.
Odds of 9/4 are the same as 3.25 in decimal. If you bet ₹1000 on a horse priced at 3.25 and it wins, you would get ₹2250 in winnings and your ₹1000 stake back for a total return of ₹3250.
Our fractional odds-on example was 1/2. In decimal odds, 1/2 is displayed as 1.50. A successful ₹1000 bet at 1.50 would return ₹1500.
Show Me More
Show Me Less
Calculating Horse Racing Odds
When you select a bet at a sports betting site, it will be added to a betslip. The betslip will show what you will win if your horse is successful.
This is the easiest way to calculate horse racing odds and be clear on what you could win, but it's also useful to be able to work it out yourself. Being able to calculate your potential winnings is a key ingredient to determine whether it's worth placing a bet or not.
To help you out, we've created a chart that shows how much you can win when betting on a wide range of odds. We've also converted them into both fractional and decimal odds and shown profit based on a ₹1000 bet. As you become more used to betting on horse racing, you will be able to work out potential profit more easily, but for now it's a useful tool.
Show Me More
Show Me Less
| Fractional Odds | Decimal Odds | 1000 Rupees Bet Winnings |
| --- | --- | --- |
| 1/5 | 1.20 | 200 rupees |
| 1/4 | 1.25 | 250 rupees |
| 1/3 | 1.33 | 330 rupees |
| 1/2 | 1.50 | 500 rupees |
| 4/6 | 1.66 | 660 rupees |
| 8/11 | 1.72 | 720 rupees |
| 5/6 | 1.83 | 830 rupees |
| 1/1 | 2.00 | 1000 rupees |
| 6/5 | 2.20 | 1200 rupees |
| 11/8 | 2.38 | 1380 rupees |
| 6/4 | 2.50 | 1500 rupees |
| 7/4 | 2.75 | 1750 rupees |
| 2/1 | 3.00 | 2000 rupees |
| 9/4 | 3.25 | 2250 rupees |
| 5/2 | 3.50 | 2500 rupees |
| 11/4 | 3.75 | 2750 rupees |
| 3/1 | 4.00 | 3000 rupees |
| 7/2 | 4.50 | 3500 rupees |
| 4/1 | 5.00 | 4000 rupees |
| 9/2 | 5.50 | 4500 rupees |
| 5/1 | 6.00 | 5000 rupees |
| 11/2 | 6.50 | 5500 rupees |
| 6/1 | 7.00 | 6000 rupees |
| 13/2 | 7.50 | 6500 rupees |
| 7/1 | 8.00 | 7000 rupees |
| 15/2 | 8.50 | 7500 rupees |
| 8/1 | 9.00 | 8000 rupees |
| 17/2 | 9.50 | 8500 rupees |
| 9/1 | 10.00 | 9000 rupees |
What Are Good Horse Racing Odds? How to Find Value
You might have heard someone refer to the odds of a horse as a 'good price' or a 'good value'. In this section, we're going to explain what that means.
Finding value in horse racing betting means being able to identify when a horse is available at bigger odds than it should be.
Here's an example. The favourite in a race has odds of 4.00. After the favourite, the bookies price the second favourite at 8.00. You know the trainer of the second favourite horse has performed well in this race in the past, the conditions suit the horse and the jockey has had a great season, riding multiple winners.
With this knowledge, you know the horse with odds of 8.00 should really be the favourite to win, or at least have much smaller odds. In this example, you think the bookies have got the price wrong and so betting on the horse that has odds of 8.00 gives you extra value.
It sounds simple, but you will need some experience and put in some work before you can identify opportunities like this easily. Study the form and other statistics that are available. This will give you an insight into how a horse is performing.
By looking at the past record of a racehorse, you'll come to understand how it performs in certain conditions. Does it favour a certain track, or weather that makes the ground soft or firm? How has it performed in past encounters against other horses running in the race?
When you study horse racing statistics, you'll find that value bets stand out. With time you'll be able to identify a horse that has been written off, but stands a chance of winning, or a favourite that should really be an even shorter price given their record. This is what finding value means and is a key weapon when betting on horse racing.
Show Me More
Show Me Less
Frequently Asked Questions
Q.
How do you read horse racing odds?
A.
If you see horse racing betting odds of 2/1 the '2' represents what you can win and the '1' is your stake. In decimal odds, 2/1 would be displayed as 3.00, which shows the total you'd receive for a successful bet with stakes of 1.00.
Q.
Which site has the best horse racing betting odds?
A.
No one horse racing betting site will always have the best odds. There are many sportsbooks and they will all offer slightly different odds on the same horse race. It's best to sign up to a few reputable horse racing betting sites, so you can compare between them for each race. However, if we had to pick one site, we'd go with Bet365.
Q.
Can you bet in play on horse racing?
A.
Yes, many sports betting sites in India offer in-play betting on horse racing. It used to be the case that you could only place bets before a horse race started and then had to hope for the best. Now you can respond to the events of the race, by betting in-play.
Q.
How do odds work in horse racing?
A.
Horse racing odds show how much you'll win if you bet a certain amount, however there are different odds. Odds of 7/2 show that you would win 7 if you bet with a stake of 2. In decimal odds, 7/2 would be displayed as 4.50, which shows how much you'd get back in return for a bet of 1.00.