How to Deposit at a Sports Betting Site from India – Your Complete Guide for 2023
Discover how to deposit at betting sites in India with this updated guide. We describe how Indians can make betting deposits at their favourite gambling sites in a simple, easy-to-understand way.
We also have information on the best payment methods to use and what's available for Indian bettors. Keep reading to learn more.
Show Me More
Show Me Less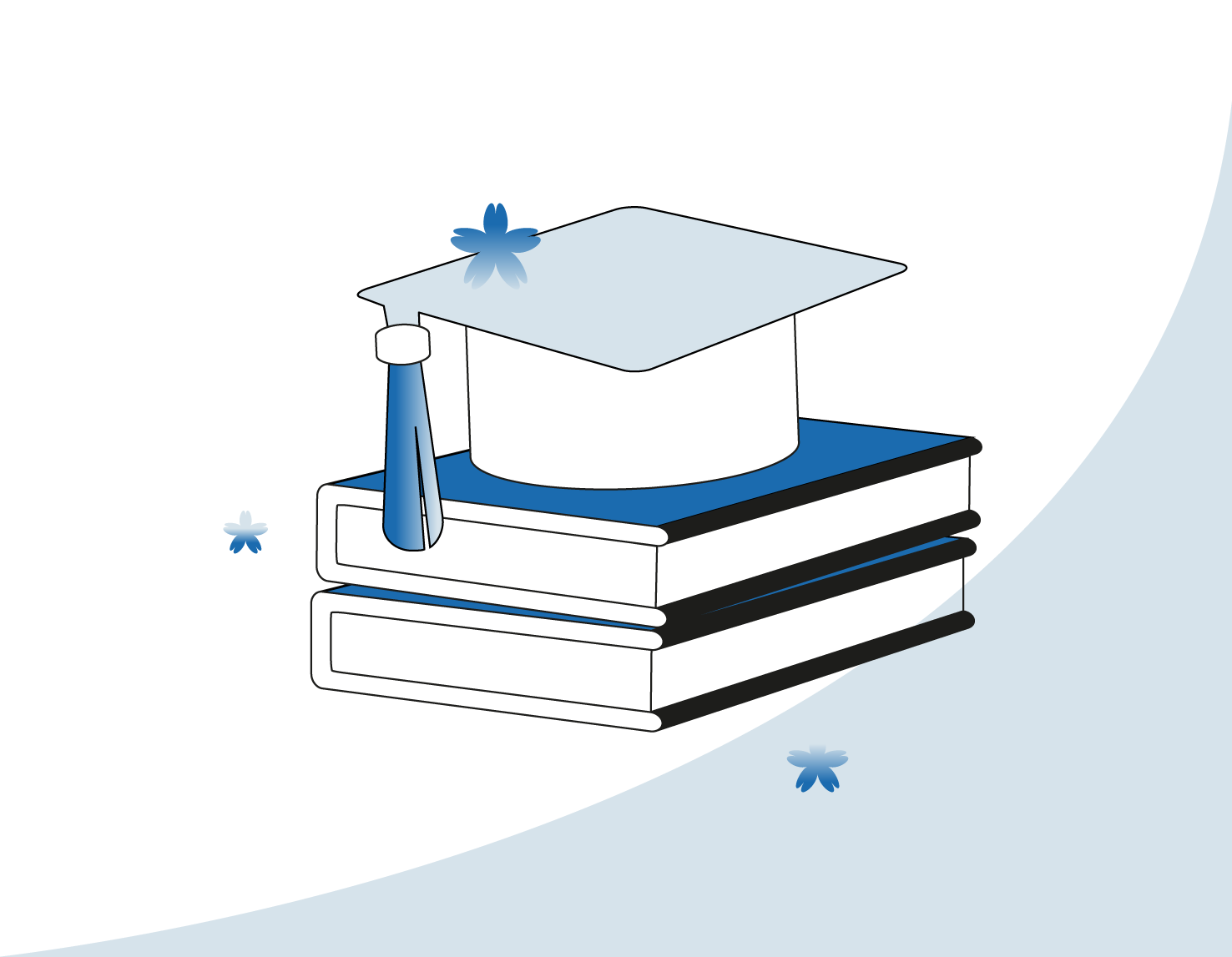 How to Make a Sports Betting Deposit – A Step-by-Step Guide
If you want to deposit at a betting site, follow the steps below:
1 – Sign up or log in to an online bookmaker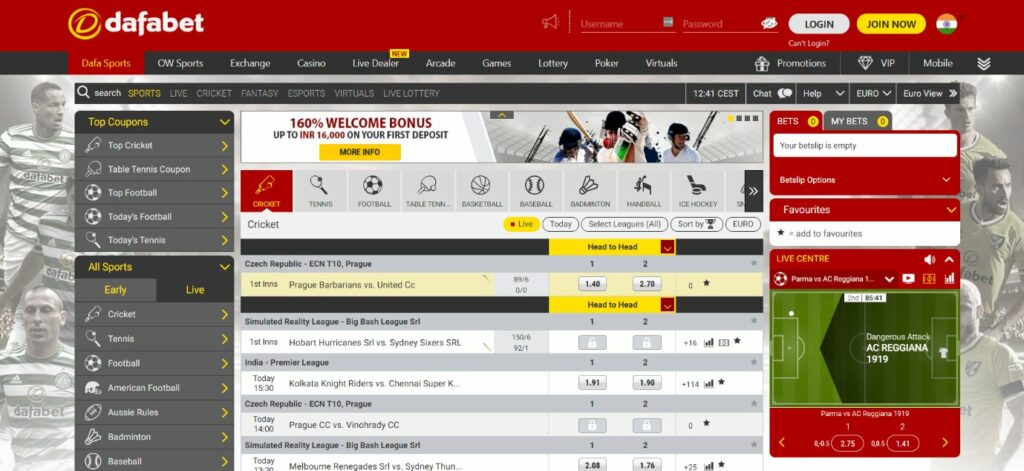 First, choose the sports betting site you want to play at. If you don't know where to play, we have a list of recommended sports betting sites for Indian gamblers that can help you.
All our recommendations have great reputations and offer a wide variety of deposit methods that Indian players can use to fund their account. If you already have an account with a betting site, log in.
2 – Go to the bookmaker's deposit page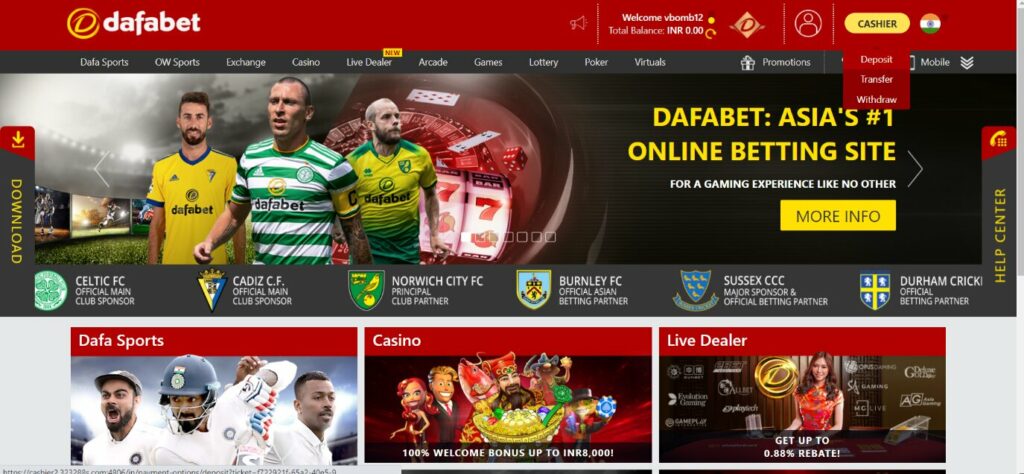 Find the deposit page on the betting site you are using. They are usually in the top right-hand side of the homepage. On some sites you might have to click 'cashier' or 'banking' first.
3 – Select a deposit method to use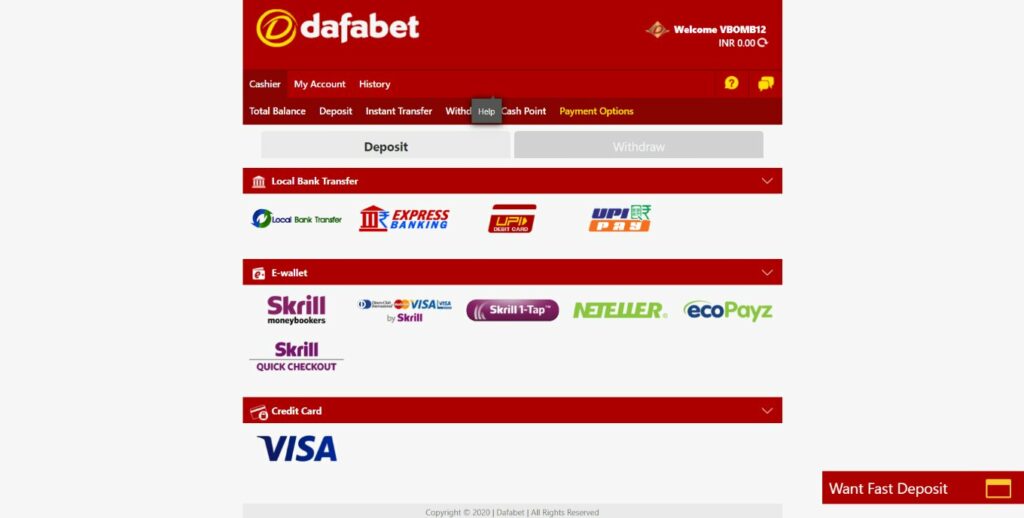 When you are on the cashier page of your chosen betting site, you will see a list of the available deposit methods. Click on the one you want to use to make a deposit.
4 – Enter the amount you want to deposit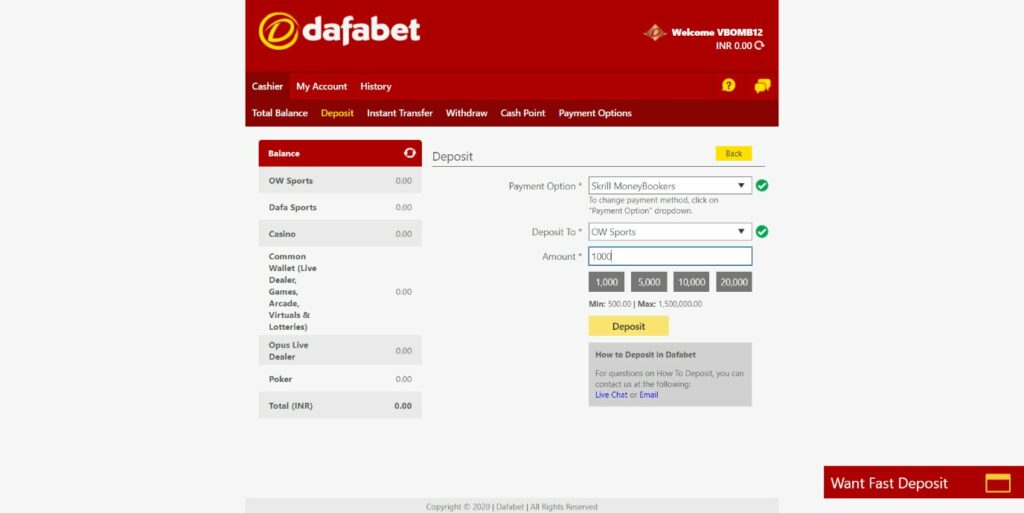 Type in the amount you want to deposit, or use the buttons to select a pre-set amount, then click 'Deposit'. Make sure you are using the correct currency. Most of our recommended sites allow you to deposit in Indian rupees. If not, all sites accept US dollars, British Pounds, or Euros.
5 – Follow the instructions
After you click the deposit button, follow the instructions and fill in the required details for your payment method. What you have to do will depend on which method you've chosen.
For example, with an e-wallet like Skrill, log in to your account and authorise the payment. With a cryptocurrency, you will receive the wallet address for the betting site where you need to send the money. When you've added the information that's required, click to confirm and your payment will be processed.
6 – Wait
Most deposit methods, including e-wallets, are processed instantly or take just a few minutes. Bank transfers can take longer with estimated times of 2-4 hours.
7 – Start betting
As soon as the funds have reached your account, you're ready to bet on your favourite sports.
The Best Deposit Methods to Use at Betting Sites in India
Most sites now have a wide range of betting deposit options available, but which one is best for Indian gamblers to use? Overall, we think the best deposit methods for Indian bettors are bank transfers. Although occasionally blocked, when bank transfers are successful they are direct and you don't have to use a third-party company like an e-wallet.
Cryptocurrencies like Bitcoin or Ethereum are also a good option. They are anonymous, accepted by lots of betting sites, and the Reserve Bank of India doesn't regulate them. This means you won't face restrictions because of gambling laws.
Read more about which payment methods are available and how they work here:
Bank Transfer
Making bank transfers to sports betting sites can be difficult because all transactions made from Indian bank accounts are subject to rules set out by the Reserve Bank of India (RBI).
Depositing via bank transfer is possible. Dafabet, for example, allows local bank transfers from ICICI, IIBANK, and HDFC, all of which are major Indian banks. We know thousands of gamblers use this method every year to fund their favourite sites, but attempts do also get blocked.
Any time you try to make betting deposits using a bank transfer, there is a possibility your bank will block it because the RBI instructs them not to allow transactions to gambling sites. Indian state laws such as the Foreign Exchange Management Act (FEMA), 1999 prohibit these sorts of transactions.
Gambling websites are specifically mentioned, and FEMA states that it is illegal to send money to overseas sites. The RBI has asked Indian banks, including the State Bank of India, to stop these payments being made.
In reality, it depends on the bank you use and your individual situation. You may have experienced issues when depositing, but a friend that uses the same bank had no problems. Checks from banks are random, so it is hard to predict whether you will be successful.
Not every transaction will be blocked, but banks are becoming increasingly strict with gambling. Our advice is that if you find a site that allows bank transfers and it works, stick with it as overall, it's a convenient option for deposits and withdrawals.
Also, there is no need to worry if your deposit isn't successful. There are no reports of gamblers being pursued by the law for attempting to make deposits. The focus of the authorities is on the banks and the gambling sites, not the individual players.
Small fees (between 1-5%) are usually taken for bank transfers, and they can take up to 4 hours to be processed.
Bank transfer minimum and maximum deposits
| | | |
| --- | --- | --- |
| Dafabet | ₹1000 | 3 lahk |
| ComeOn | ₹500 | ₹75000 |
| Bet365 | ₹7500 | 20 lahk |
| 10Cric | ₹1000 | N/A |
Cryptocurrency
Using cryptocurrency at gambling sites is becoming a lot more common. There are now specialist sports betting sites that only take crypto bets. Established betting sites also accept cryptocurrency as a deposit method. Some of the biggest cryptocurrencies are Bitcoin, Ethereum, Ripple and Litecoin, but check with your preferred betting site to see which they accept.
To deposit at betting sites using a cryptocurrency such as Bitcoin, you need to own the currency and have it available in a crypto wallet. When you go to the deposit page of the sports betting site you are using, select Bitcoin as your method and the site will give you their wallet address.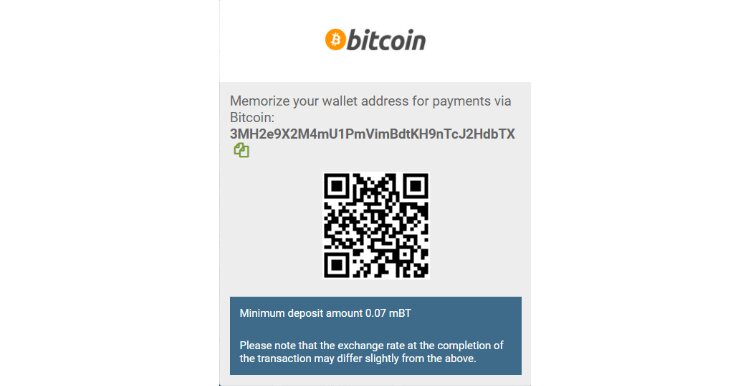 Transfer the amount you want to deposit from your wallet to theirs. The betting site will then credit the money to your account instantly.
Because cryptocurrency is decentralised, deposits are not controlled or restricted by central banks. This is one of the big perks of using crypto at betting sites, especially in India. Another is the fast processing times. If you have cryptocurrency, or are thinking of investing in some, we'd recommend you use it to deposit at betting sites for these reasons.
Paysafecard
Paysafecard is a good option to deposit at betting sites, but it comes with a big catch. You can't make withdrawals using the same method. This is problematic because of the Indian banking laws that we've mentioned above, it's not always easy to complete a withdrawal.
If you want to use paysafecard to deposit, it's straightforward and you don't need a bank account. First, find a store that sells paysafecard and purchase one for a set price, e.g. ₹1000. Your card then has the ₹1000 attached in credit, and you use the 16-digit code on it to deposit at a sports betting site.
Paysafecard is simple to use, and because you don't need a bank account, you can bypass a lot of the problems you get with other deposit methods. But we don't recommend using it because ultimately you will want to withdraw from your account too. To do that, you will need to set up a withdrawal method and it makes sense to use the same method for both deposits and withdrawals.
We recommend using bank transfers so you can deposit and withdraw using the same details and method. If bank transfers work for you, it will be quicker and easier than using paysafecard. However, if you can't deposit using any other method, or you don't have a bank account, paysafecard is a good back-up option.
Skrill
Skrill is a popular e-wallet and online payment service in India. Although many Indians use it, you can experience issues when depositing at betting sites. Indian banks do not allow you to deposit to Skrill if you state that you will use the money for gambling.
This is because, at a national level, gambling is illegal in India. There are a few exceptions to this rule, for example, horse racing, but because most gambling is illegal, banks do not allow deposits to e-wallets used for that purpose.
Most sports betting sites accept Skrill for both deposits and withdrawals. However, if you declare to your bank that you are depositing to Skrill and then plan on moving the money to a gambling site, they may block the transfer.
Some people used to bypass these restrictions by depositing money and declaring it as 'non gambling' and then transferring it to another Skrill or Neteller account used for gambling. If you declared the deposit as not for gambling, banks would allow it, and you could move the money between e-wallets freely.
However, this is no longer possible because of changes in Skrill's and Neteller's terms and conditions in India and Bangladesh. As of the 14th of October 2020, P2P (person to person) transfers are blocked. So, you can't send money from Skrill to Skrill, Neteller to Neteller or a Skrill to Neteller account.
This has made it even harder to use e-wallets as a viable option for betting deposits. It also shows how rules around e-wallets are making it more difficult to use them for gambling.
There are also fees attached to using a Skrill account. Creating an account is free, but if you make a deposit to Skrill there is a 2.5% fee. If you want to withdraw your money from Skrill, there is a flat ₹415.60 fee every time.
Skrill minimum and maximum deposits
| | | |
| --- | --- | --- |
| Dafabet | ₹500 | 15 lahk |
| ComeOn | ₹800 | 7.9 lahk |
| Bet365 | ₹350 | 20 lahk |
| 10Cric | ₹1000 | N/A |
Neteller
Neteller is an e-money transfer service and wallet, like Skrill. Most sites accept Neteller, and you can add money to your account in a wide range of ways. However, just like Skrill, Neteller has the same restrictions for gambling.
Most people add money to their Neteller accounts by using a bank transfer or credit/debit card. When you do this, you must declare if you will use the money for gambling. If you state that you will, the bank you use will most likely block the deposit.
As we previously mentioned with Skrill, there used to be a way around these restrictions by sending money P2P on Neteller. That is no longer an option, and this change in Neteller's terms will make it more difficult to use the service for gambling.
Neteller charges a 2.5% fee for most transactions, including most major banks, Mastercard and Visa.
Neteller minimum and maximum deposits
| | | |
| --- | --- | --- |
| Dafabet | ₹500 | 75 lahk |
| ComeOn | ₹800 | 7.9 lahk |
| Bet365 | ₹350 | 20 lahk |
| 10Cric | ₹1000 | ₹10000 |
Paytm
Paytm is one of the biggest online payment services in India. It's an e-wallet and works similarly to Skrill and Neteller. Because of Indian law, making deposits via Paytm to a betting site is not possible. Most gambling sites don't offer Paytm as a deposit option for this reason.
There are a few sites that accept Paytm, though, and because it is an Indian company, deposits to betting sites via Paytm are more likely to be successful than those done through Skrill or Neteller. Because of FEMA, banks are vigilant about blocking gambling payments at overseas sites. Both Skrill and Neteller are based abroad so fall into this category, but with Paytm, this rule shouldn't be an issue.
This doesn't mean betting deposits with Paytm are always successful. If you try to use it as a deposit method, remember you could run into the same issues that Skrill and Neteller users do. Because gambling is illegal at a national level, many banks will block deposits.
In September 2020, the Paytm app was briefly removed from the Google Play Store because of a breach of Google India's policies relating to gambling. Google stated it removed the Paytm app because of advertising around cashback offers for a fantasy IPL game.
Paytm responded by saying the campaign had nothing to do with gambling and Google reinstated the app to the store, but this shows e-wallets and gambling in India still have a rocky relationship.
The Google Play Store policies state that 'advertising gambling, real-money games, contests and tournaments are allowed if the local laws of the location allow it'. In this case, Google thinks the local laws prohibit gambling and is strictly adhering to what the Indian Government says. It will block any apps it considers promoting or advertising gambling, and this shows the difficulty that many Indians face when using e-wallets for betting deposits.
Is It Possible to Make Sports Betting Deposits in Rupees?
Yes, there are lots of sports betting sites that accept Indian players and allow depositing with rupees. You can play at an established, licensed site with a great reputation, all in your own currency.
Using INR is more convenient, you don't have to pay for conversion fees, and you know exactly how much you are betting.
Are Sports Betting Deposits Safe?
Yes, because online betting sites use encryption technology, firewalls, and other digital security systems to protect you. They use the same technologies that online banks use every day to keep your money and personal information safe.
Sports betting sites do this because they want to protect their customers and ensure that their customers trust them. They invest in online security to make this happen. They also have to do it to keep betting licenses.
We only recommend sites licensed by the gambling authority in the country where they are based. This is because those betting sites have to follow strict rules to get and keep their license.
Security is a big part of the licensing process, for example, the UK Gambling Commission, that licenses companies like Bet365, checks every site's security annually. If the betting site doesn't pass the tests on their security systems, they lose their licence and can no longer accept bets.
Can I Get a Welcome Bonus?
Yes, no matter which payment method you used to deposit, you can claim a welcome bonus when you join a new betting site. They credit welcome bonuses to your account after you sign up, make a bet or make deposits, and each bonus comes with slightly different terms and conditions.
Essentially, a welcome bonus is when a betting site will give you a free bet or bonus money because you have filled certain criteria, like making a deposit. You can then use this bonus cash to bet on sports, although you will have certain conditions that you have to adhere to. For example, you might only be allowed to bet on cricket, or you will have to make bets above odds of 2.00.
Frequently Asked Questions