How to Play Online Poker in 2023 – Everything You Need to Know
Want to learn how to play online poker? Good news – we're here to explain all the rules for the most popular forms of poker. We'll also tell you how to play, the meaning behind confusing poker terms, and some tips to improve your online poker strategy. Read more below or sign up to one of our recommended poker sites below:
Show Me More
Show Me Less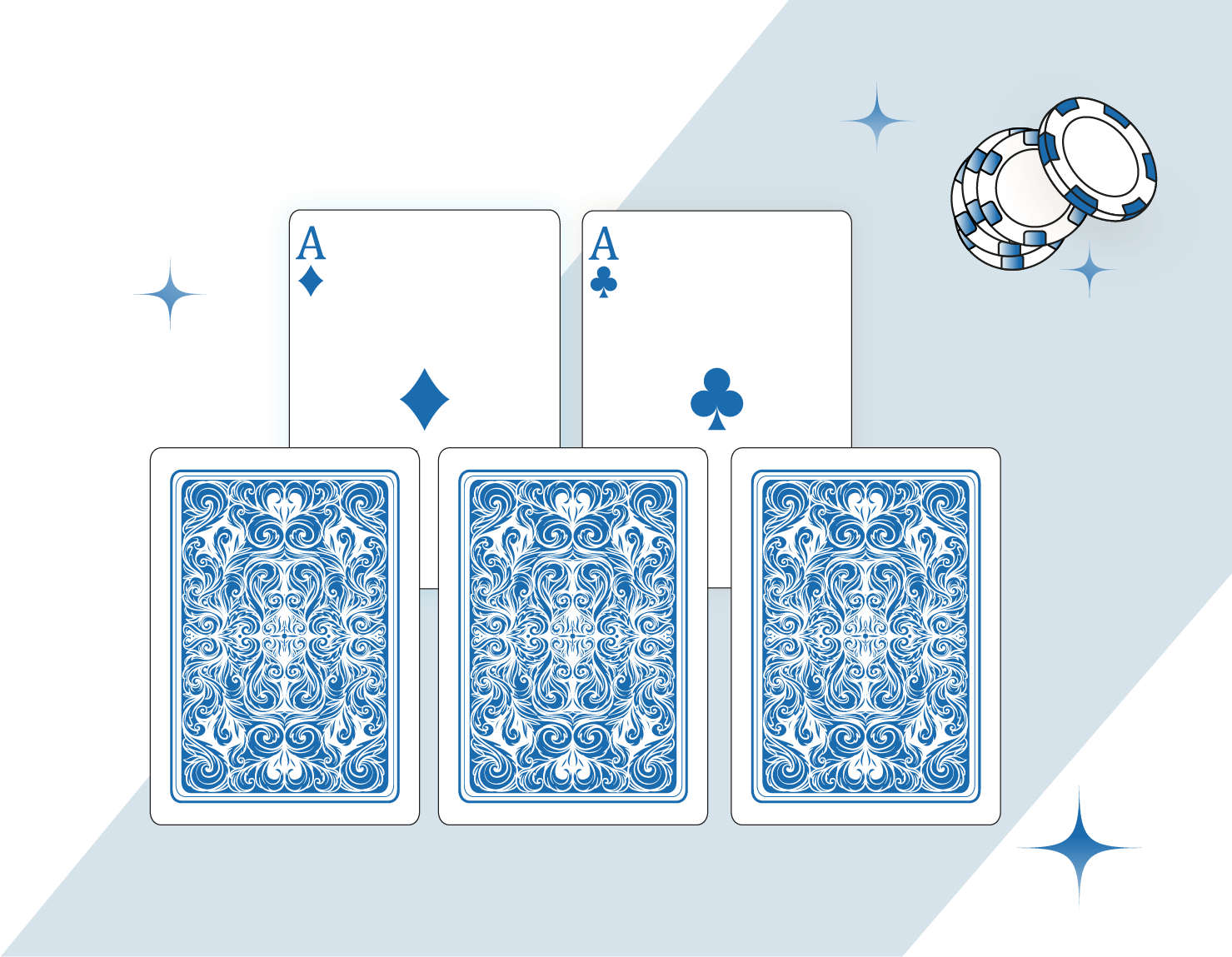 Best Poker Sites for Players in India November 30, 2023
Getting Started With Poker
Before you learn how to play online poker, you need to figure out which type of poker you want to play. There are dozens of variations. Sometimes, the difference is relatively small – like changing the size of your maximum bet.
Sometimes, you'll need to learn a whole new set of rules, be dealt a different number of cards, and even play with a smaller deck.
Here are a few popular types of poker you should know about:
Texas Hold'em – No Limit
This is the most popular and common type of poker. It's played at online casinos and all around the world. It's also the easiest to learn, although it can take years to become great at the game – and new strategies are being introduced all the time.
In Texas Hold'em, anywhere from two to nine players take a seat at the table. Each player is then dealt two cards face-down. These are called the hole cards. This is your first chance to assess the strength of your hand. The best hand pre-flop is two aces, and the worst hand is generally believed to be 7-2, with each card being a different suit.
A round of betting takes place based on the first 2 cards and 'blinds' are used to ensure there is always some money in the pot. Big and small blinds are a mandatory bet for 2 players on the table and get the hand started. If you want to stay in the hand, you must match the bet that has already been made, either the blind amount or a raise from another layer.
Five community cards are dealt in the middle of the table, face-up. Community cards are ones which are then used by all players to make the best five-card hand.
The first three – also known as the flop – come out at once. Then there's a round of betting, followed by a fourth community card – the turn. Another round of betting takes place and then the fifth and final community card, the river, is revealed. One more round of betting takes place and then the hand is over.
Your hand is made up of the best five cards from the five community cards and your two hole cards.
Texas Hold'em – Pot Limit
No limit Texas Hold'em is the most common version of poker, but you can also play it with a pot limit.
In no limit games, you can bet however much you like during any round of betting. As you first get started playing online poker, this can be a little daunting; one bad hand can cost you a large amount of your chips.
It also increases the odds of players being all in before the community cards are dealt, as players can easily put all their chips on the line and force you into an all-or-nothing scenario.
Conversely, pot limit games have a strict cap on how much you can bet. The maximum bet is whatever is in the pot at the time. So, if you have a hand which is quite good but not fantastic, it's easier for you to stay in the hand without putting a lot of your money on the line.
Omaha Hi
Omaha Hi is another popular type of poker. It has the same hand rankings as Texas Hold'em. The flop, turn and river are all dealt in the same way, too. However, each player receives four hole cards instead of two.
Not only that, but you must use two of your hole cards and three community cards. So, if you're dealt four aces, you'll only actually have a single pair – even though it looks like you have four-of-a-kind!
Because you have double the hole cards, Omaha Hi results in a much higher number of premium hands like straights, flushes and full houses when compared to Texas Hold'em. Many players find this element of the game much more exciting. But it's also more complicated, and harder to figure out what your opponent might have.
Mixed Games
There are tonnes of different types of poker. Omaha Hi/Lo is similar to Omaha Hi, but the pot is chopped into two versions: one for the 'high' hand and one for the 'low'. Then there's 7-Card Stud, Razz, Courchevel, and many others.
If you explore these different variations of poker and enjoy a lot of them, you can play mixed games. This means that the format will change throughout your tournament. H.O.R.S.E. is one example of mixed game poker. It involves Texas Hold'em, Omaha, Razz, and two versions of 7-Card Stud.
How to Play Online Poker
So, the big question – how do you actually play poker at an online site? We've put together an introduction to online poker which explains the basics, so even beginners can come to the table prepared.
To keep things simple, we'll be talking about how to play Texas Hold'em poker no limit poker, as this is the game most players tend to play online – especially those who are just starting out.
Cash Games or Tournaments?
First up, you need to decide whether you'll play in a cash game or a tournament.
Cash is straightforward. You convert real cash into poker chips and sit down with that exact amount in front of you. So, you might have ₹2,000, while the player to your right may have ₹10,000 and the player to your left could have just ₹200. Every bet is for real cash, and you'll win or lose it as soon as the hand is complete.
Tournaments are different. Each player buys in for a set amount and receives an identical stack of chips. The tournament then plays down until one person is left with all the chips. The house takes a small cut – known as rake – and the rest of the money goes into a prize pool, which is split between the top finishers. Usually, the top 15-20% of players receive a cash prize.
Aim of the Game
The target in poker is to get as many chips as possible. To do this, you'll need to either have the best hand, or bluff and pretend you do. The aim is to get your opponents to let go of their hand, or 'fold'.
When you first learn how to play online poker, you probably won't feel confident bluffing. Start off by looking to play strong hands where you know you have a good chance of winning.
When you get better, you can incorporate more bluffing into your game. This will allow you to win chips even when you don't have a great hand.
How a Poker Hand Unfolds
Before any cards are dealt, one player will have to put in the small blind. And the player to their left puts in the big blind.
This is a pre-determined number of chips that go in without players seeing their cards – hence the name 'blinds'. The blinds move clockwise one place after each hand, which keeps things fair.
Having the blinds helps to ensure that players don't sit there folding every hand until they get pocket aces. Every few hands when the blinds reach you, you are obliged to make a bet.
Each player is dealt two cards face-down. These are your hole cards. You have three options at this stage:
Fold: If you don't have a very strong hand, you can fold. This means you get rid of your cards and sit out until the next hand begins. You can't win by folding, but it also means you won't lose chips on weak hands.
Call: If you want to continue playing the hand, but you don't fancy increasing the size of the pot, you can just call. You might want to call with hands like a pair of sixes, sevens, or eights after somebody before you has raised. That way, you can reassess depending on what the flop looks like.
Raise: If you have a strong hand like pocket (a pair of) aces or kings, or ace-king suited, you'll likely want to raise. This builds the size of the pot, allowing you to bet bigger later on in the hand.
After the betting, the flop is revealed. Remember, that's the first three community cards. A round of betting follows, and this is repeated for the turn and river. After that, the hand is over.
How to Win a Hand of Poker
There are two ways to win a hand of poker. The first is to be the only player left in the pot, with all other plays folding to your bets. If this is the case, you don't have to reveal your hand. Instead, when you're the only person left in the hand, you give your cards back to the dealer – or virtual dealer – and collect all the chips in the pot.
The other way to win the pot is to have the best hand at showdown, which means after all the rounds of betting have finished. When the final round of betting ends, all players flip their cards face-up and show them to the other players. Whoever has the best hand scoops the pot. If two or more players have an identical hand, the pot is divided equally between them.
Claimed by 493 people this week
Spins Tournaments win up to $15000
T&C:
New and existing players. 18+. $1,200 freeroll tournament. Register for the Main Daily Freebuy ($30 GTD) & Daily Freebuy ($10 GTD) tournaments to participate for free. All freerolls in the Legion Poker room participate in this promotion. One account only. Cryptocurrency bonus types are excluded. –
Terms apply
Close T&C
Poker Vocabulary
Poker players love to use lots of specific words and phrases. When you're trying to figure out how to play poker for real money in India, all that new poker language can be confusing. That's precisely why we've put together a short poker glossary below. Read on to learn some key poker terms.
Ante: A small number of chips that each player puts into the pot before seeing their hole cards. Antes are only included in certain poker games.
Big blind: A set number of chips put into the pot by one player each round, before they see their cards.
Check: Passing the action to the next player without adding any more chips to the pot.
Community cards: Shared cards dealt face-up, which all players can use.
Flop: The first three community cards, dealt face-up.
Hole cards: The cards dealt to you face-down at the start of a hand.
Muck: Another word for fold, where you get rid of your cards without revealing them. Folded cards go into the 'muck'.
Pocket pair: A pair made up of your two hole cards (in Texas Hold'em).
River: The fifth and final community card, dealt face-up.
Showdown: The last part of a hand, where players reveal their hole cards and see who has the strongest hand.
Small blind: A set number of chips put into the pot by one player each round, before they see their cards. It's often 50% of the big blind.
Turn: The fourth community card, dealt face-up.
Poker Hand Rankings (Best to Worst)
| Hand Name | Description |
| --- | --- |
| Royal flush | 10-J-Q-K-A of the same suit |
| Straight flush | Five consecutive cards of the same suit |
| Four-of-a-kind | Four of the same card |
| Full house | Three-of-a-kind and one pair in the same hand |
| Flush | Five cards of the same suit, but not consecutive |
| Straight | Five consecutive cards, but not of the same suit. Aces can be high or low |
| Three-of-a-kind | Three of the same card |
| Two pair | Two pairs in the same hand |
| Pair | A single pair |
| High card | The highest possible card, starting with the highest card, then the second highest, working down to the fifth. Aces are high |
How to Play Poker Online: Tips and Guidelines
If you want to enjoy playing poker for a long time, just learning the basics of how to play online poker isn't quite enough. You also need to develop your poker strategy. And follow good gambling rules to keep your spending in check.
Here are some simple tips and guidelines to help you make the most of your time at the tables:
Learn to Bluff
When you first learn how to play online poker, you'll tend to only play strong hands. But when you've been playing for a while, you will start to bluff more. This is a great way to pick up extra chips, rather than simply praying for the best cards.
Manage Your Bankroll
Bankroll management is important to all forms of gambling, but it's especially significant in poker. If you play tournaments, you should have roughly 100 buy-ins in your bankroll. So, if you have a total of ₹3000 to spend, your average tournament entry should be ₹30.
Try Freerolls
Freerolls are a great way to build your bankroll when you've just learnt how to play online poker. Online freerolls are free-to-enter poker tournaments with real cash prizes. The lengthy duration of the tournaments and relatively low cash prizes mean the top players rarely take part, making for a weaker field of players – and a higher chance of winning.
How to Cash Out When Playing Online Poker
If you need to cash out your poker winnings, that means you must have already downloaded the poker software in order to play – so there's not much more required. All you need to do is head over to the cashier and choose your withdrawal method.
However, the first time you cash out, you may be asked to prove your identity.
Here's a step-by-step guide on how to withdraw your poker winnings:
Log in: Open up the poker software you use to play, then enter your username and password to log in.
Visit the cashier: There should be a fairly large button titled 'Cashier' or similar. Open it up.
Click on 'Withdraw': Look for a 'withdraw' tab and click on it.
Choose a method: Select the way you want to receive your funds – be it credit card, e-wallet, etc. Sometimes, you'll only be allowed to withdraw via the same method you last used to deposit.
Enter an amount: Manually type in how much you want to withdraw. If you're playing in a foreign currency, make sure you're happy with the conversion rate before you proceed.
Enjoy!: That's it, your money is on its way to you.
Frequently Asked Questions
Q.
How do you play poker for beginners?
A.
Poker is not a game which you can master quickly so, if you've just started, you should follow a simple guide a learn
how to play online poker
properly. Focus on memorising the different poker hand rankings and assessing the strength of your own hand. As you improve, you can begin to incorporate your opponent's range, raise in position, defend wider, and pick spots in which to bluff more often.
Q.
What is the fastest way to play poker?
A.
To get started
playing online poker
, you should memorise hand rankings – and the rules, of course. The fastest way to progress your learning is to sit at the tables and play. If you're not confident and think you'll lose money, you can take your first steps by playing for free using 'play chips'. Just bear in mind that the level of play you'll encounter is of a much lower standard than real money tables.
A.
Online poker is legal in some countries and illegal in others. For instance, online poker used to be huge in the USA until the 'Black Friday' event which took place on April 15, 2011. The government clamped down on all the major poker sites, but it has since begun to permit online poker in certain states. In
India, gambling
is defined as a game of chance – so the skill involved in poker puts it in a grey area. Some states have no real gambling laws, so you can legally play in India.
Q.
Can you get promotions at poker sites?
A.
Yes online
betting promotions
are common at poker sites. They range a lot from site to site but can include bonus chips, free entry to tournaments and more. On our poker page we have a list of top sites that all have great promotions available.
A.
In poker, pre-flop refers to any action which takes place before the flop is dealt. In Texas Hold'em, the flop is the first three community cards which are dealt face up in the middle of the table. Before players see these cards, there will be a round of pre-flop betting where each player can only see their own two hole cards.
Q.
What is the easiest poker game to learn?
A.
The easiest poker game to learn is Texas Hold'em No Limit, which also happens to be the most popular format – both live and online. The reason it's simple is because you only have two cards to yourself – known as hole cards – and the other five cards are shared between all players. As it's no limit, you can bet however much you like at any stage. As the old saying goes, poker takes a minute to learn and a lifetime to master.
Q.
What hands should you always play in poker?
A.
The best starting hand you can have in Texas Hold'em poker is two aces, known as pocket aces. Statistically, every other hand is an underdog, so you'll want to get the money in as soon as possible. Pocket kings are next, then pocket queens and ace-king suited. But there are a lot of aspects you need to factor in. For example, if the flop comes 6-7-8 and you have ace-king, it's not very strong anymore. In other words, there's no magic hand in poker – you need to look at each individual situation.