How to Win at Slot Machines
All online gamblers want to know how to win at slots. Slot machines have the biggest payouts, largest jackpots, and record-breaking progressives. They are easy to place bets on, and you can pick up free spins with many modern titles.
But with so much choice out there, how do you learn to pick the right games? And how can you make the most out of your bankroll? From choosing the best slots to finding a generous reload bonus, Indian gamblers need a helpful guide before they get started. Luckily, we have some top tips for online casino players in India. If you want to know more about winning at slots and claiming a good welcome offer, read on.
Show Me More
Show Me Less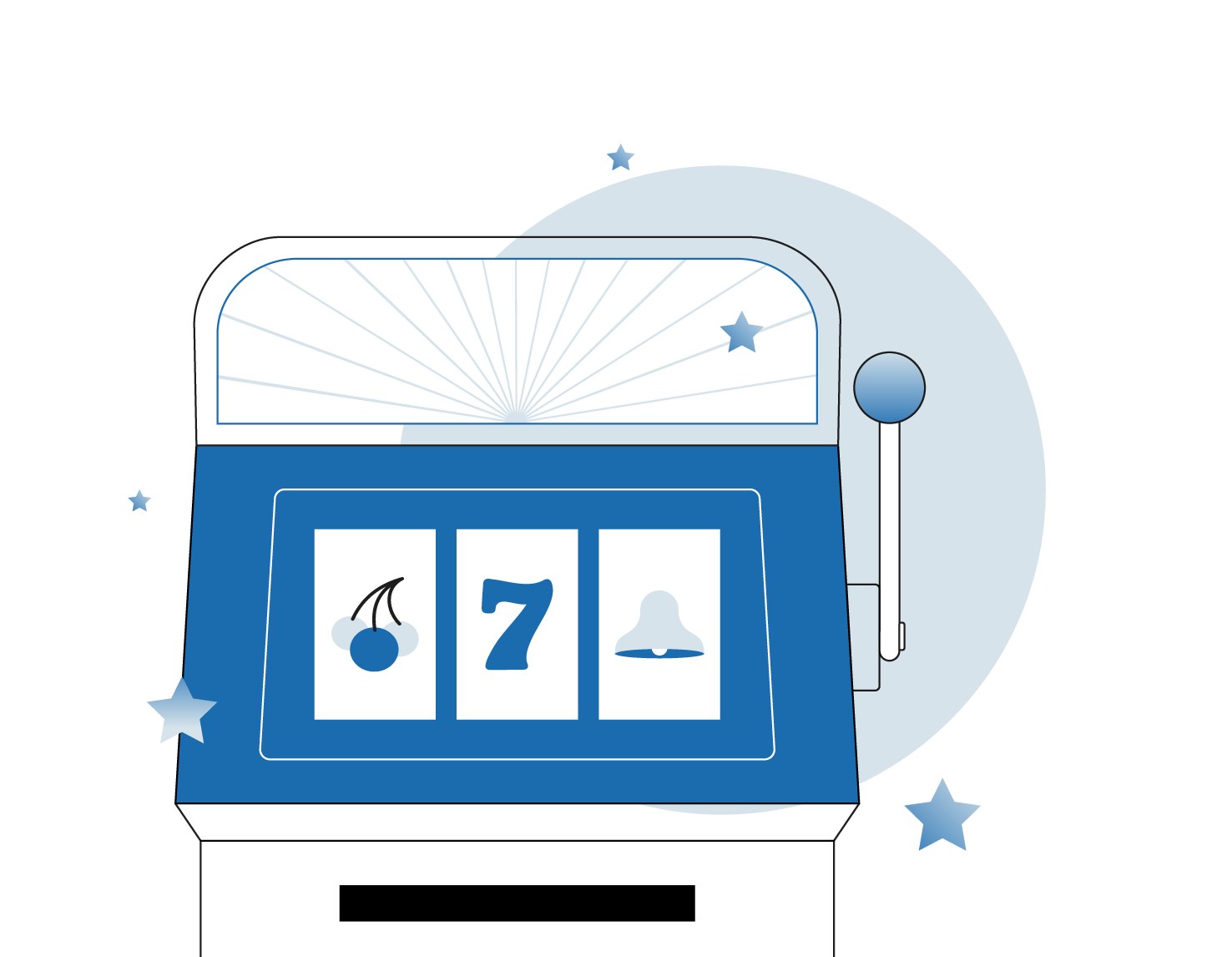 Popular Slots Strategies for Gamblers
Slot machines have been around for decades. And as long as these games have been around, there have been players who have tried to beat them.
In a land-based casino, slots can have house edges as high as 10%. While at online casinos this drops to around 2-5%. While physical slots still have electronic RNGs (Random Number Generators) that govern the arrangement of the reels, some are still governed by mechanical RNGs. All spins should be random but the nature of a machine's set-up means a lot of land-based slot machines are weighted against the player.
Video slots are becoming more popular in Asian casinos and online. But with so much choice, it's vital to pick the right games and have good bankroll management. Here are some good tips to beat the games.
Have a Slot Staking Plan
Sensible bankroll management is key in cracking how to win at slots. Like all casino games, slots can have variance. That means you may have long downswings before a win. Your bankroll must be able to handle the swings.
Never out-price yourself. If the coins and stakes can be altered, select bets that are proportional to your whole budget. So, for example, if you have HKD100 to play with, don't bet more than HKD1 per spin. This gives you enough legroom to play with. By all means, up your stakes if you can afford it, but stick to the staking plan.
Play the Max Bet
Covering the maximum number of paylines is good to ensure wins. If the win lines aren't fixed, select the maximum number you are able to.
Progressive jackpots are massive prizes linked between multiple machines or casinos. In many cases, a progressive jackpot can only be won when betting at the maximum stake possible. If you are playing these games, make sure you can afford the top stakes.
Read the Paytable
You wouldn't gamble on Sic Bo without trying to learn about the rules of play. The same applies to slots. If you want to know how to win on slot machines, you need to know what the game entails. The slot paytable lists all payouts for symbols, plus bonus game details.
From the paytable you'll see how big the jackpots are, and what's involved when triggering a bonus round. If there are lots of bonus features, it could mean the slot is "volatile", meaning it pays out irregularly.
Know That Every Spin is Independent
Slots players in land-based casinos love to wait around at machines that haven't paid out in a while. They think that a big win is about to hit. But if you're curious about how to win on slot machines, you need to understand that all games are random. Slot software is governed by RNGs (Random Number Generators).
RNGs are algorithms that oversee when and where the reels come to a stop. But they are programmed so that every slot spin is independent from the last. There's no such thing as slots memory, and no 'hot' and 'cold' streaks.
That's not to say some slots tend to pay out more regularly than others, of course. However, that is generally down to the arrangement and frequency of high-paying symbols on the reels.
Understand RTPs and Volatility
Picking the right games is essential for long-term profits. Each slot has an RTP (Return to Player) percentage. This is the theoretical long-term returns for every dollar wagered. The higher the RTP, the higher the returns. So, an RTP of 95% means the game pays 0.95 for every 1.00 wagered. The rest is the house edge.
Some slots are more volatile than others. This means the frequency with which players win prizes. A volatile, or high-variance, slot pays out rarely but when it does the prizes are big. A low-variance, or low-volatility, slot pays out little and often.
Volatile slots are still fun, but they can be damaging to your bankroll if it's not large enough. If you're chasing progressive jackpots, expect the volatility to be higher than normal.
In land-based casino slots, the payouts can be better if you gamble at the higher coin stakes. So, if you have the choice to select a coin at HKD1, bet one spin at HKD1 rather than four at coins worth HKD0.25.
Test Out Games for Free Online
After you learn about the rules of play, you should always test out a game with play money. Most online slots allow Practice Play so you can get used to the gameplay and bonus features.
Free-play is one advantage online casinos have over land-based ones. Indian gamblers can test out hundreds of slots to find the most generous payout tables available at top-rated online casinos in India. When you're ready to gamble, hit the 'real money' tab at the online casino of your choice and load a game.
Finding Top Online Slots Bonuses
Knowing how to win at slots is just part of making cash. To make the most of slots gambling, you need to claim a bonus. A welcome offer or free spins gives players the chance to win extra cash without much effort.
Our partner casinos all offer new player bonuses. When you deposit and place bets, you can earn "matched" cash. As long as you play enough slots in your first week or month the casino will match the deposit 100%. Remember to check the game eligibility of your bonus. Slots play usually contributes 100% towards a bonus amount, but sites can vary.
Loyal customers at our sites can also enjoy a generous reload bonus. This rewards a second, third or fourth deposit with a match offer. And when you're ready to cash out winnings, pick from a list of top withdrawal methods to claim your cash.
Regular slots players can also take advantage of tournaments. Play a selected slot, and if your total wins are better than other players' at the online casino, you will win real cash or prizes.
Enjoy a Welcome Offer When You Play Slots
It's great to learn how to win at slots. These are programmed machines that can still be highly random for gamblers. The key is to select the right games for you, and stick to a sensible staking plan. Remember to bank your winnings regularly, and (if available) select a Stop Win and Stop Loss limit. Plan out gambling sessions carefully and don't try to 'chase' losses if your session is going badly.
It's also good to claim a generous reload bonus or welcome offer from a top reviewed online casino. Online casinos are always trying to attract new customers from across Asia. If you play the right bonus offers with good wagering requirements, you can earn serious free cash. All our recommended sites accept VISA payments. Wire Transfer is also accepted, so there are plenty of ways to load your account and get playing.
Frequently Asked Questions
Q.
How much can I win playing online slots?
A.
All slots vary from jackpot to jackpot. It's important to test out different providers and games to find slots that are generous and have a variance you can handle.
Q.
Do all slots offer the same jackpots?
A.
No. High variance slots tend to have large jackpots and lots of bonus games. Lower variance slots have smaller prizes that hit more regularly.
Q.
What are progressive jackpots?
A.
Progressive jackpots are prizes that are linked to the same game across multiple casinos. To trigger them, players often need to bet the maximum stake.
Q.
What are the best online slots to play?
A.
It depends on the player. Gamblers enjoy high-variance games with lots of swings. More casual bettors prefer simpler slots with lots of small wins.
Q.
Is there a strategy for winning at slots?
A.
Good bankroll management and picking the right games are the best tips if you want to learn how to win at slot machines. All slots have different RTPs (Return to Player percentages). The higher the RTP, the better it is in the long run.
Q.
What slot bonuses will I find online?
A.
A generous reload bonus or offer is great for slots players wanting to earn free cash. At our best online casinos, you'll discover free spins, deposit match bonuses, and even slots leaderboard/tournament challenges.
Q.
How do you win on slot machines?
A.
Having a betting strategy is essential if you want to win against online slot machines. The top strategies for winning at online slots include the following top tips: stick to a stake plan; play the max bet to cover max paylines if you can afford top stakes; review the paytable for each online slot you play; take time to understand RTPs and volatility; try games for free online before betting for real money; don't chase losses if your current game session isn't turning up winning streaks.