Learn How to Play Fan Tan Online India
Whether you want to play the fan tan online casino game played using beads, or you want information about the fan tan card game which is also known as Sevens, we've got you covered. Our expert fan tan guide gives you everything you need to become a fan tan pro!
Our fan tan guide will show you:
Show Me More
Show Me Less
How to play fan tan at online casinos in India
Which types of bets are available in fan tan
What other types of fan tan can be played
Already raring to get stuck in? Select a site from the list below to play fan tan at a top online casino: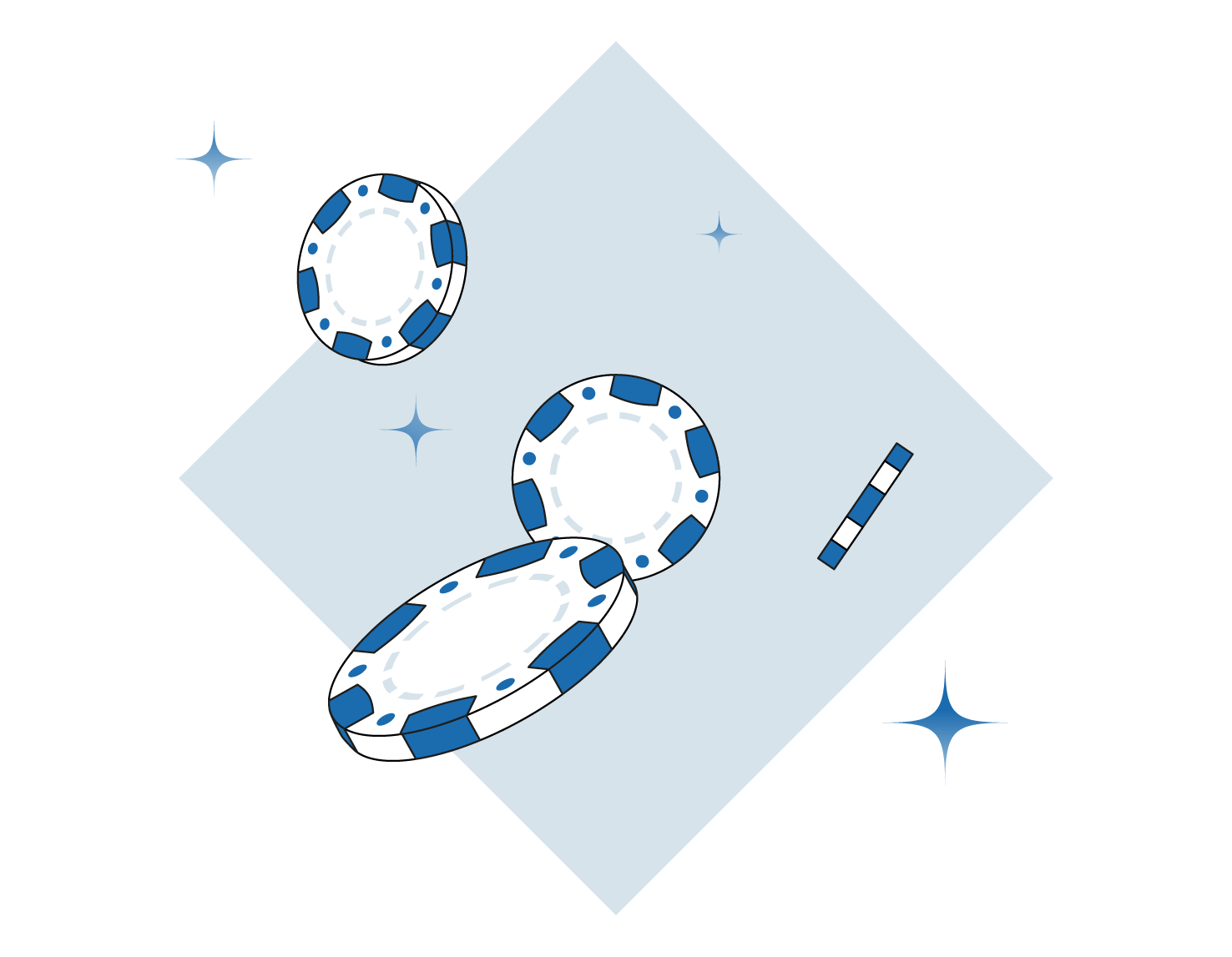 Best Online Fan Tan Casinos August 30, 2023
What Is the Fan Tan Online game?
The interesting thing about fan tan is it that the term covers several substantially different variants of the game. Fan tan at casinos online is usually played with a dealer flipping over a cup full of beads, with players placing predictions on the outcome. But there's also a whole other version of fan tan, played with three to eight players using a deck of cards.
If you're playing fan tan online, it's much more likely you'll come across the version using beads. It's a classic game of chance which was invented in China. Many players have noticed its similarities with online roulette, though it's not as easy to find fan tan at casinos outside of the continent.
Luckily, many of the best online casinos in India make it easy for you to play fan tan. Give it a go and before long we're sure it'll be one of your favourite casino titles!
How to Play Fan Tan
Before you learn how to play fan tan, make sure you're looking at the right game. As mentioned, there are two different games named fan tan, both coming from China but vastly different in terms of gameplay.
Here, our experts will show you how to play both versions of fan tan.
Fan Tan Online (Dealer) Rules
This is our favourite version of fan tan and the kind you're most likely to find at online casinos.
Online fan tan is a traditional player versus the house game. The layout isn't very different from the sic bo online table game – you'll have a number of betting options in front of you and you can simply place chips on them to declare your bet or bets.
First, the dealer will grab two handfuls of beads and place them in a cup which is then covered from view. Once you've placed your bets, the dealer will reveal the beads and begin counting them out, using a special wand to arrange them into groups of four.
It's worth noting that some online casinos use playing cards instead of beads. It's sometimes referred to as Super Fan Tan, based on the Gameplay Interactive title. In this version, dealers deal six or 12 cards. Each has a value – ace is worth one point, 2-10 are worth their face value, while jacks, queens and kings are worth 11, 12 and 13 points respectively.
In the card version of online fan tan against the dealer, the total from the six or 12 cards is divided by four and the remainder is used to determine the winning number.
Fan Tan Card Game Online: Rules
Another version of fan tan is played with between three and eight players using a standard deck of cards. All cards are dealt out, which means some players may have one card fewer than the rest.
This game is often called Sevens (7s) because the seven is the key card in the game. Players take it in turns to lay down a card, face-up. Sevens can be played at any time. Other than sevens, you must lay down cards in sequence, based on their number and suit. For example, when the seven of hearts is laid down you can then lay down the six or eight of hearts – the cards which are one place below and above the seven of hearts, respectively.
The winner is the player who gets rid of their cards first.
Hypes of Bets in Fan Tan Online
When playing against a dealer, you can place several different online fan tan bet types. You'll bet on how many beads remain after the final group of four.
For example, if there were 42 beads, the winning number would be two. That's because there are 10 groups of four beads, leaving two beads behind.
If there were 56 beads, the winning number would be four (sometimes referred to as zero). That's because there are 14 groups of four beads, leaving none behind – i.e. a perfect group of four.
Here are five of the most common fan tan online bets:
Fan
With the fan bet, you'll need to back the precise number of beads remaining. Fan bets are from 1-4 (or, at some casinos, 0-3).
Odds: 3/1
Nim
Like a fan bet, but with two numbers instead of one. One number will count as a win, and the other as a push.
Odds: 2/1
Kwok
Like a nim bet but both numbers count as a win.
Odds: Evens
Nga tan
Like a nim bet but with three numbers instead of two. Two numbers will count as a win, and the other as a push.
Odds: 1/2
Sheh-sam-hong
Like a nga tan bet, but all three numbers count as a win.
Odds: 1/3
How Do You Play at a Fan Tan Casino Online?
Ready to play fan tan at an online casino? No problem – here are four simple steps explaining how to play fan tan online:
Join a casino: Sign up to any of our recommended Fan Tan casinos.
Make a deposit: Add real funds to your account using a credit card, e-wallet or other payment type.
Place your bets: Choose which numbers to bet on. See the 'Types of Bets in Fan Tan Online' section above for more information.
Flip those beads!: Once your bets are on, it's time for the dealer to reveal the beads and get counting – so hope for the best!
Honestly, that's all it takes to play fan tan at an online casino in India. Want to see for yourself? Sign up to one of the best online casinos in India via the banner below:
How to Win a Sevens Card Game Online (Fan Tan)
Fan tan at online casinos is a game of chance like Hoo Hey How, which means there's not a lot of strategy involved. However, if you're playing the card version of fan tan – or Sevens – then we have some top tips for you.
Here's our winning strategy for playing the Sevens card game online:
Release your end cards Aces and kings – known as 'end cards', as they're the last in the sequence – can be a pain. In order to make sure you can get rid of them, you want to play that suit as early as possible. If you happen to have the seven of that suit, lay it down as soon as you can. This will increase the odds of you getting rid of your end card.
Hold back special sevens: If you have a seven, you hold a lot of power. You need to decide when is a good time to release it. For example, if you have the 7 and 9 of hearts, you only need the 8 of hearts to be laid down to get rid of both. That won't take long, so it might be a good idea to hold onto your 7 for as long as possible.
Practice your poker face: Unlike fan tan's online casino version, you're not playing against the house – you're taking on other players. With this in mind, you need to try not to give away any useful information on your cards. In fact, you should try to feed other players false information on your cards, if you spot an opportunity to do so.
Why Do We Recommend These Fan Tan Casinos?
Now that you know a little bit more about how to play fan tan at casinos online, you're probably wondering where to do it. We've already reviewed countless online casinos in India and have provided you with a table of the best in the business. But how do we know which are the top casinos?
Here, we'll show you exactly what our experts look for in an online casino:
Great Customer Service and Reputation
Casinos which treat players badly tend to get found out. We'll do our research and look at whether players in India are happy with the online casino we're reviewing. After signing up ourselves, we'll run some questions by customer support – without them knowing that we're reviewing them. Only casinos which pass with flying colours make our list of top online casinos.
Lots of Table Games
We really love fan tan online, but we also like to mix things up from time to time. Online casinos with a large offering of online table games – including live dealer games – are more likely to feature in our top casinos list.
Quick and Easy Banking
Done right, you'll barely notice the process of depositing and withdrawing. But some online casinos make you jump through a lot of hoops to get there. We prefer casinos where it's quick and easy to move your cash around. And, preferably, they'll support local currencies like the Japanese yen and Thai baht.
Exciting Promotions
Our experts closely examine the terms on every offer, whether that's a fan tan online casino bonus or a broader welcome bonus. If it looks like it offers good value for money, we'll include this in our casino review.
Play Fan Tan Online for Free and Real Money
It can feel a bit unfamiliar playing a new game for the first time, so many players opt to play for free while learning how to play fan tan. The thing is, it's one of the easiest games around!
If you do feel unsure, it's not a bad idea to play free fan tan online before you make the step up to real money. This will help you get familiar with bets like nim and nga tan, where certain numbers pay out as a 'win' and others are returned as a 'push'. But, within a few rolls, there's every chance you'll want to play for real money.
In our experts' opinion, you can easily pick up the game by watching a couple of rounds unfold. And, of course, by studying our expert guide to fan tan online!
Free fan tan online will always serve a purpose to help build your confidence at the tables. But, in our opinion, real money fan tan online is a much more thrilling experience.
Frequently Asked Questions
Q.
How many cards do you deal in 7s/fan tan?
A.
In the card version of fan tan, all cards in the deck are dealt. This means that some players may receive one card less than others.
Q.
Can you play sevens/fan tan with 2 people?
A.
You can't play the card game version of fan tan with two people. Instead the number of players you need in fan tan is three to eight. But you can play classic fan tan online – a different type of game to the card game – with one person taking on the house.
Q.
Is Ace high or low in sevens/fan tan?
Q.
How do you win at sevens/fan tan?
A.
In the card game played between several players, you must get rid of all cards first to win at fan tan. If you're playing casino fan tan against the dealer, you need to predict how many odd beads will remain from the dealer's random cup roll.