The Best Baseball Betting Sites & Expert Guide
If you're looking for baseball betting online, you've come to the right place. We have created a list of the best baseball betting sites for Indian players below.
We've also collected all of our best tips and information on every aspect of baseball gambling to help you bet on the MLB with confidence.
Ready to go? Sign up at one of our recommended sites now or learn more below.
Show Me More
Show Me Less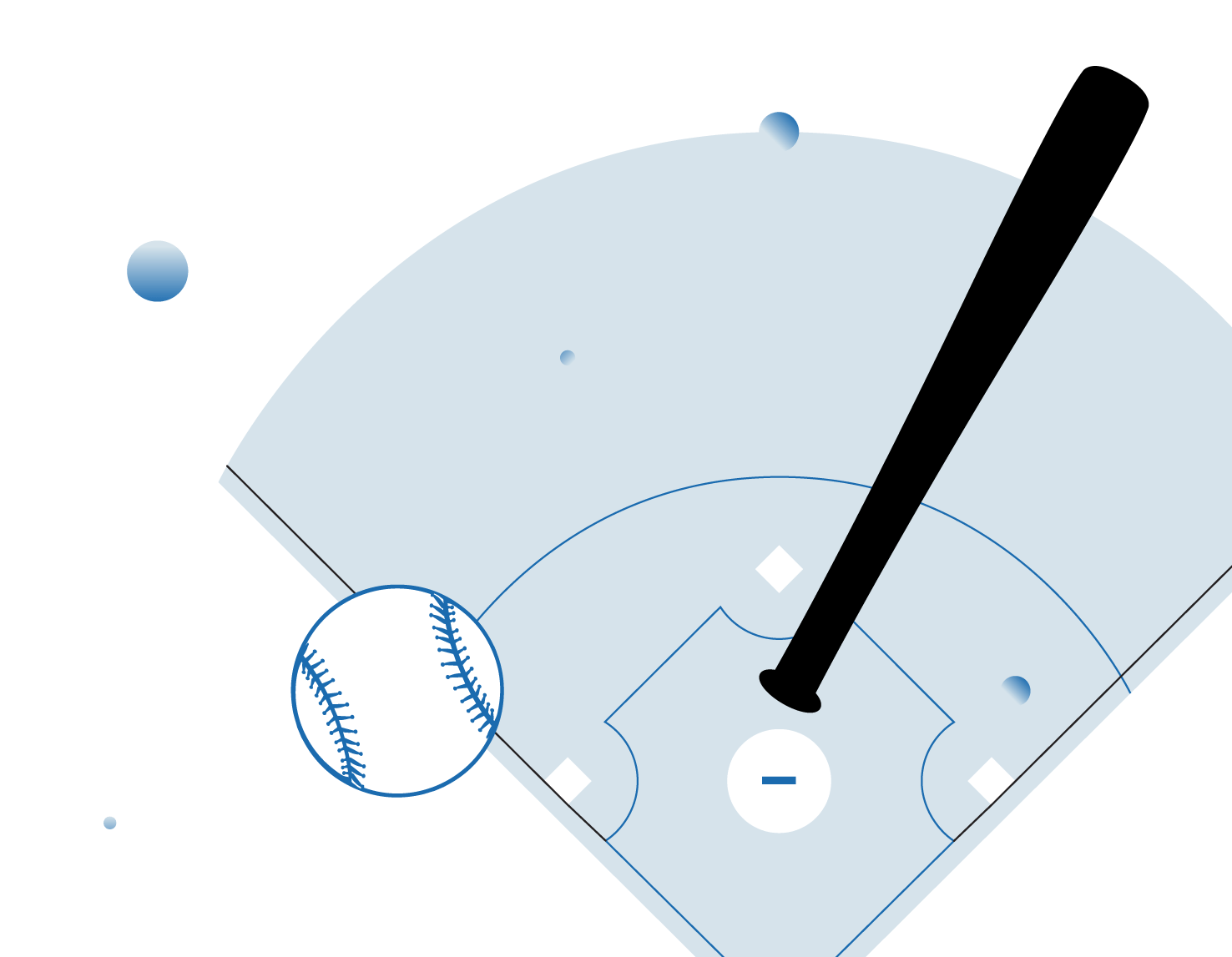 Best Baseball Betting Sites in India June 8, 2023
Understanding Baseball Odds
Our recommended betting sites will allow you to choose the format that odds are displayed in, but decimal odds are the most commonly used in India. They will be the default at most of our top baseball betting sites, so we'll use them in the examples on this page. If you're not familiar with decimal odds, here's a quick review on how they work.
What Are Decimal Odds?
Decimal odds show you how much your total return (winnings and original bet) will be based on a bet of ₹1. A winning bet of ₹1 with odds of 2.00 would have a total return of ₹2 – ₹1 in winnings and your original ₹1.
In order to calculate your potential returns, you multiply the amount you want to bet by the odds. For example, ₹1000 x 2.00 = ₹2000.
Here's an example of a bet on which team will win an MLB game:
Los Angeles Dodgers: 1.75
Atlanta Braves: 2.20
Let's imagine you've bet ₹5000 on the Dodgers. To calculate how much your return would be if you win, multiply your stake by the listed odds.
₹5000 x 1.75 = ₹8750
You would get your original ₹5000 back, as well as ₹3750 in winnings.
If you bet ₹5000 on the Braves and they won, your return would be ₹11000.
₹5000 x 2.20 = ₹11000
Here, you would get your ₹5000 bet back and get ₹6000 in winnings. Atlanta was the underdog in this game, so their odds were bigger than Los Angeles Dodgers.
It's good to know how to calculate odds, but you can also see your potential payouts at baseball betting sites by clicking on a bet. When you do this, it will be added to your betting slip and you can enter the amount you want to bet, with slip showing you your return if you win.
Show Me More
Show Me Less

Types of Baseball Bets
There are three main ways to bet on baseball games, as well as a couple other betting types that are worth understanding. Here's a look at the most important markets you'll need to understand to bet on MLB games online:
Money Line/To Win
In a money line, or to win, bet you are trying to predict which team will win a single game. A typical money line market might look like this:
New York Yankees: 1.60
Boston Red Sox: 2.30
In this example, the Yankees are the favourites. A ₹1000 bet on the Yankees would return ₹1600, while that same bet would return ₹2300 on the Red Sox.
Note that at many online betting sites, both announced starting pitchers must start the game in order for the bet to be valid. If injury or other factors cause a different pitcher to start the game for either team, your bet could be voided.
At other sites, you might be given the option to let your bet stand, even if one or both of the starting pitchers change. Check the terms and conditions at the site you choose before placing a bet, as each one varies slightly.
Show Me More
Show Me Less
Run Line
A run line bet is like a point spread bet in other sports. In run line bets, baseball betting sites give the stronger team a handicap of -1.5 runs, and the weaker team a bonus of +1.5 runs.
This means if you bet on the favourites, they must win the game by at least two runs in order for the bet to win because 1.5 runs are deducted from their score at the end. Meanwhile, the other team can lose by a single run and still win the bet because they get 1.5 runs added to their score. For example:
Chicago Cubs (-1.5): 2.60
Louis Cardinals (+1.5): 1.50
If the final score of the game was 2-0 to Chicago and you bet on Chicago -1.5 your bet would still win because, after applying the handicap, they would still have 0.5 runs compared to the Cardinals 0.
If the final score was 4-3 to Chicago and you bet on the Cardinals +1.5, your bet would win because when the extra 1.5 runs was added to their total, they would have 4.5 runs to Chicago's 4.
If you bet ₹1000 on the Cubs and they win by at least two runs, you will receive ₹2600. If you bet on the Cardinals and they either win or lose by just one run, a ₹1000 wager will pay ₹1500.
Totals
Totals are bets based on the total number of runs scored by both teams in a game. You have to predict whether that total will be above or below a number set by the betting site. For instance:
Over 7.5 Runs: 1.90
Under 7.5 Runs: 1.90
On this market, the "over" bet wins if the teams combine for at least eight runs, while the "under" wins if the teams score seven runs or fewer. In either case, a bet of ₹1000 would return ₹1900.
Accumulators/Parlays
Accumulators or parlays are combination bets. You choose multiple wagers and combine them to make one big overall bet, and you only win if all of your selections are successful. However, these accumulators pay out at high odds if all of your bets come in. Here's an example of a three-leg baseball parlay:
New York Mets: 2.20
Cincinnati Reds: 1.90
Texas Rangers: 2.50
Combined odds 10.45
To calculate the total payout of an accumulator you multiply the odds of each bet by the others. In the example above, that comes to 10.45, which means a ₹1000 bet would pay ₹10450 if all three teams you wagered on won their games. However, if just one team in your bet loses, the whole bet loses and you don't get paid anything.
Show Me More
Show Me Less
Futures
A futures bet is one that predicts the winner of a league, competition, or award, rather than the winner of a particular game and usually takes place over a longer period. For example, you might see the following MLB betting odds to win the World Series:
Los Angeles Dodgers: 5.00
New York Yankees: 6.50
Atlanta Braves: 10.00
Tampa Bay Rays: 14.00
In this market, a ₹1000 bet on the Dodgers would return ₹5000 if they went on to win the World Series.
Many people bet on who will be the MLB MVP before the season has started, however the betting market is still open as the season progresses and odds will shift depending on what has happened.
Baseball & MLB Betting Strategy
People have written entire books on baseball betting strategy, but you don't need to be an expert to get started. With a few tips, you can build a successful baseball betting plan. Here are a few of our favourite pieces of advice that you can use at baseball betting sites:
Know Your Starting Pitchers
The starters for each team have a major impact on the odds of each game. Even a weak team can be favoured if their best pitcher is on the mound. However, you must also be aware that most pitchers do not throw as many innings as they used to, and many teams use "openers" to pitch just an inning or two at the start of the game. In those cases, it's more important to judge the overall team strength, not just the starting pitcher.
Matchups Are Key
Baseball largely comes down to a battle between pitcher and hitter. In most cases, left-handed batters fare better against right-handed pitchers, and vice versa. This can prove critical if a team's best hitters all bat from the same side of the plate. If a team of powerful left-handed batters must face an excellent left-handed pitcher, they could be in deep trouble.
Be Wary of Big Favourites
Over the course of a 162-game MLB season, even the best teams will rarely win more than 110 games, and even the worst will typically win 50 or more. Historically, this has meant that large favourites have failed to win often enough to justify their odds.
Weather Matters
In baseball, rain can cancel a game, but it may also delay it. Pitchers often can't continue after a lengthy delay, potentially minimising the impact of starters if rain is in the forecast. Meanwhile, wind can have a significant impact on the amount of home runs there might be, or the amount of batters that are caught out so make sure you are aware of it before you start betting.
Show Me More
Show Me Less
Why Choose Baseball Betting Online
There are some clear advantages to making a baseball bet online. Of course, online betting sites are convenient because you can wager whenever you like from your computer or phone.
In addition, you can get better odds by wagering at our recommended betting sites, as they have lower overheads than brick-and-mortar operators. This is especially true if you make accounts at more than one of the sites we recommend and shop around. This allows you to find the best odds for each game and boost the amount of profit you make in the long run.
Why Do We Recommend These Baseball Betting Sites?
In order to make our top list, a baseball betting site must meet a series of criteria. Our team review each site to make sure it meets our standards before we recommend it to you. Here's a look at a few of the more important areas we consider before creating our list.
Bonuses
Each of our recommended sites offers great bonuses and promotions you can take advantage when you open an account and beyond. In particular, we look for sites that have specific bonuses for baseball bettors, such as free bets on MLB games.
Payment Options
We know that it's important to have a variety of different deposit and withdrawal methods at online gambling sites. That's why we look for sites that offer deposit methods including traditional options like credit cards and bank transfers, as well as flexible methods such as Bitcoin, e-wallets, and prepaid products.
Great Odds
Not every bookmaker offers the same odds on baseball games. We compare different baseball betting sites to determine who has the best odds so you can get maximum returns. We monitor the sites over the course of a whole baseball season and only the sites with the best odds on average make our list.
Customer Support
It's important to us that you can get the help you need if you run into any problems while betting. That's why we seek out sites that employ knowledgeable and friendly staff who can help you with your questions anytime you need them.
Show Me More
Show Me Less
History of Baseball
While the world sees baseball as a thoroughly American game, it actually derives from older bat-and-ball games in England. Although its origins are English, the game became baseball in the United States as rules were developed throughout the 19th century.
The first professional baseball league – the National Association – began play in 1871. Today's modern MLB leagues came soon after, as the National League started in 1876, followed by the American League in 1901. The two leagues began contesting the World Series in 1903.
Since that time, the sport has continuously expanded. Today, there are 30 teams, divided evenly among three divisions in each of the two leagues. The New York Yankees have won by far the most World Series championships, winning 27 titles in total.
Baseball has become popular in nations where cricket is not the dominant bat-and-ball game. Baseball is popular in parts of the Caribbean, Central America, and Asia.
In particular, Japan has played professional baseball since the 1920s. Today, Japan's Nippon Professional Baseball includes 12 teams, and most experts rate it as the second highest level of baseball in the world, trailing only Major League Baseball.
Show Me More
Show Me Less
Frequently Asked Questions