Play Real Money Craps Online at Top Casinos
Start playing craps games online in India with the help of our experts. On this page, you'll not only find the best craps casinos around but also playing guides, strategies, and top tips.
Join one of our recommended craps casinos below to grab a bonus today or read on to find out exactly how to play this traditional casino game.
Show Me More
Show Me Less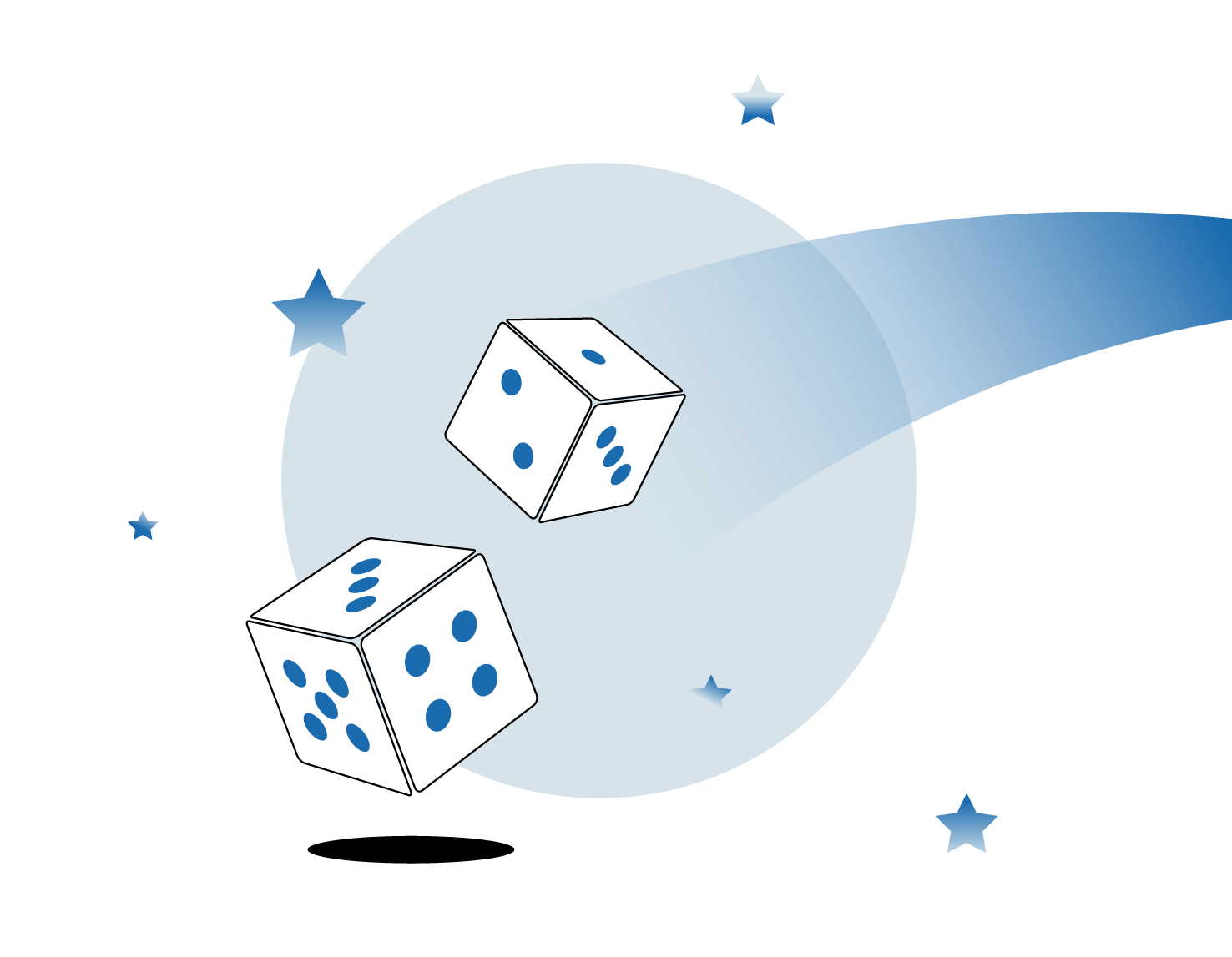 Best Online Craps Sites in India November 30, 2023
How to Play Craps Online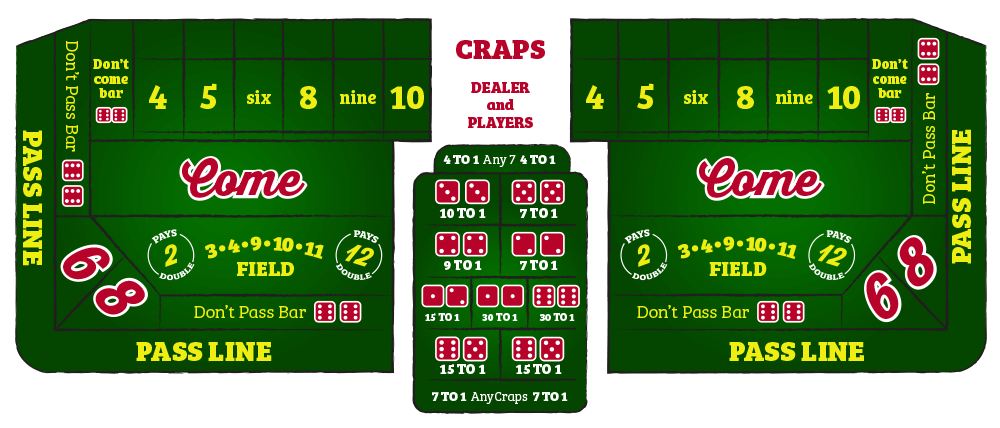 We've listed a simple step by step guide on how to play craps online. Follow these guidelines and you can get started right away:
Sign up to an online casino where you can play online craps for real money and join a table. If you're not sure where to start, pick one of the recommended craps casinos at the top of this page.
Don't jump right into the action. Instead, wait for a new round. Each new round will be signified by a disk appearing on the table which reads 'Off', and it's followed by something called a 'Come Out' roll.
You don't want to miss this one, as it has a low house edge – in other words, the average profit the casino makes on this bet is lower than most others. So, you should wait for a new round before playing.
Each round begins with two standard dice being rolled. In real life, you can roll the dice yourself – but it's done automatically online, allowing you to focus on betting. Regardless of who's rolling, all players at the table can bet on the action.
You can bet before the first roll or any time after it, but the first roll – the Come Out roll – offers particularly good value. Ultimately, the aim is to avoid getting 'crapped out', which means losing on the roll of two dice. If you do crap out, that round ends and a new one begins.
Before the first roll, you can bet on either pass line or don't pass to kick off the action. If you bet on pass line, you're hoping for a 7 or 11. This will double your stake. If it's a 2, 3 or 12 – known as 'Craps' – you lose. If any other number is rolled, that becomes the 'point'. Don't pass bets are the opposite – you'll win with a 2, 3 or 12, and lose with a 7 or 11.
Understanding the 'Point'
Once the point is established, it remains in place and isn't reset until the next round. Let's say, for example the point in this round is a 4. If you've bet on the pass line, you want the point number (4) to land before a 7 does in order to win more money. If you've bet on the don't pass, then it's the opposite – you want a 7 to hit before the 4 does.
In this example, if a 4 is rolled, you'll win at even odds. At this point, the round ends and a new one begins, with a fresh come out roll. In the time between the come out roll and hitting the point, you (and the other players) can bet on a number of side bets, which you can read about in the 'Craps Game Betting Basics' section below. Regardless of who's rolling, all bettors are paid.
In theory, the period of rolling before hitting either the point or a 7 could go on indefinitely. In 2009, one amateur player rolled 154 times before rolling a 7. But, in reality, you should hit a 7 after around eight rolls of the dice (on average).
By contrast, if you bet on the don't pass, you're basically rooting for the opposite numbers. So, if the point is 4 and you've bet on don't pass, you want a 7 to land before a 4 in order to win – again, at even odds.
So, it's all about the number 7 versus whichever number is the point for that round. If you bet on the pass line and roll a 7 before you manage to roll whatever the point is, you'll 'seven out'. That means you've lost, and a new round begins.
If you want to know more about the payouts for betting on a specific number, rather than just the pass line bet, take a look at the 'Craps Payouts' section below.
So, what happens if you double your money after the Come Out roll? Well, you must leave your original bet in place. But you can take your winnings, leaving just the original bet. Or you can leave it all on the table, doubling your bet for the subsequent round. This is also known as 'pressing' your bet. This process repeats every time you hit a win.
Above are the basics for a game of craps, but there are plenty of other bets you can place. You can find out more in the section below:
Craps Game Betting Basics
In this section we will explain the different types of craps bets you can place in an easy-to-understand way.
If you're learning how to play craps and still getting to grips with the betting basics, why not print out this guide until you memorise the bet types?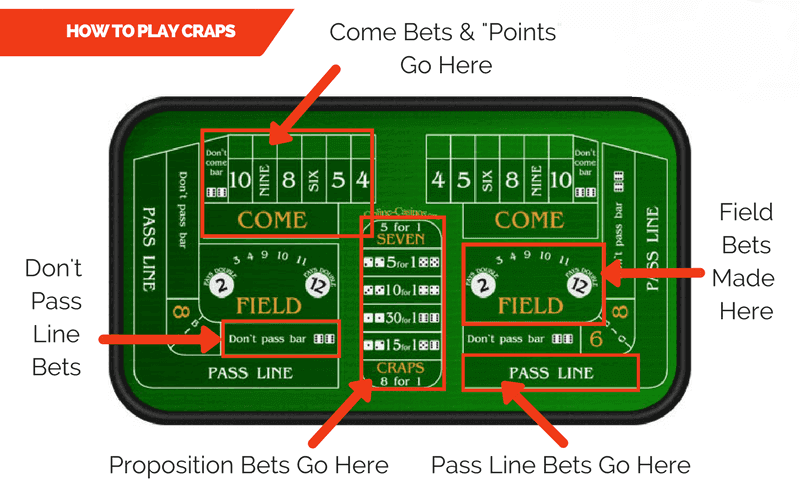 Big 6 or 8: Betting on either a 6 or 8 landing before a 7 does.
Buy: Like a Place Win, but with superior odds – and a 5% commission.
Come: Same as Pass Line bet, but once the Point is set.
Don't Come: Same as Don't Pass bet, but once the Point is set.
Don't Pass: You'll win if the Come Out is 2 or 3. If it's 7 or 11 you lose. A 12 is a Push, and anything else is the Point.
Field bets: Field bets win on a 2, 3, 4, 9, 10, 11 or 12. They lose on 5, 6, 7 or 8.
Hardways: Bet on both dice being the same number, also known as a hard pair. The bet rolls over until a 7 lands.
Hop bets: A bet where you must call the outcome of both dice. If they're different numbers – known as an easy hop – it pays 15/1. Or if you call a pair – a hard hop – it's 30/1.
Lay: Like a Place Lose, but with superior odds – and a 5% commission.
Multi-roll bets: Bets which aren't settled in just one roll, but instead on the outcome of multiple dice throws.
Odds Bet: Side bet, after the Point is set, on the number/s which will come out before a 7. This bet can have zero house edge.
Pass Line: You'll win the Pass Line bet if the Come Out is 7 or 11. If it's 2, 3 or 12 you lose. Anything else is the Point.
Place Lose: Bet after the Come Out on a 7 being rolled before a selected number.
Place Win: Bet after the Come Out on a selected number being rolled before a 7.
Proposition bets: Proposition bets, or prop bets, are single-roll bets which are settled as soon as they land. Here they are:

2, 12 and all hard hop bets
3, 11 and all easy hop bets
Any craps
Any 7

Single-roll bets: This refers to a type of bet which is settled in a single roll of the dice.
Craps Payouts
Most of the best craps casinos should make payouts clear, but it's a good idea to have the odds memorised beforehand. Feel free to print out the craps payout table below:
Online Craps Payout Table
| Bet Type | Odds |
| --- | --- |
| Pass Line/Come | Evens |
| Don't Pass/Don't Come | Evens |
| Pass Line – 4 or 10 | 2/1 |
| Pass Line – 5 or 9 | 3/2 |
| Pass Line – 6 or 8 | 6/5 |
| Don't Pass – 4 or 10 | 1/2 |
| Don't Pass – 5 or 9 | 2/3 |
| Don't Pass – 6 or 8 | 5/6 |
| Field – 3, 4, 9, 10, 11 | Evens |
| Field – 2, 12 | 2/1 |
| Place – 4 or 10 | 2/1 |
| Place – 5 or 9 | 3/2 |
| Place – 6 or 8 | 6/5 |
| Hardways – 6 or 8 | 10/1 |
| Hardways – 4 or 10 | 8/1 |
| One Roll – Any 7 | 5/1 |
| One Roll – Any craps | 8/1 |
| One Roll – 2 craps or 12 craps | 35/1 |
| One Roll – 3 craps or 11 craps | 17/1 |
How to Win at Craps
Learning the rules is one of the biggest stepping stones to becoming a winning craps player. Once you've memorised the bet types and mastered the payouts, you'll be in a terrific position to make sensible bets. So, start by thoroughly reading this guide to craps games.
It's also helpful to remember a few basic tips. Here are three golden rules to help you win at online craps games:
There's no denying it – craps game tables are confusing. The obvious solution is to simply play for free while you get used to the game. Once you're comfortable with the rules, gameplay and betting structure, you can progress to playing real money craps online. And you can even get a sizeable bonus when you sign up at one of our top recommended casinos.
At the start of a game of craps, you can bet on pass or don't pass on what's called the 'come out roll'. It only has a very slight house edge. Always make sure you do this, as you don't want to miss out on preferable odds. Waiting to bet on pass/don't pass is similar to sitting down at a cash game poker table and waiting for the big blind.
Don't miss out on odds bets, also known as free odds bets, which offer true odds – in other words, you'll be paid out at odds which perfectly reflect the probability. First, you must bet on pass, don't pass, come, or don't come. Then, you can place a bet on specific numbers being rolled at true odds. It's extremely rare to bet on actual odds with no house edge in any casino game, so take advantage.
Types of Craps Game
Craps games are famous for being among the most exciting casino games around. But some of them are best avoided – and we're about to tell you why.
Bank Craps is the standard version of the game which is played in casinos both online and in-person. Essentially, the 'bank' is the casino. Players take on the bank rather than each other. Taking on other players at craps is something you're more likely to find when playing among friends.
In general, Crapless Craps follows a similar rule set to Bank Craps, but there are some significant differences. Players are suckered in by the premise that 2, 3, 11 and 12 are points. You can't lose on the come out roll, which means you're involved for at least two rolls. But tweaked rules mean the overall house edge is 5.38% – significantly higher than the 1.4% in standard craps. This version of the game is therefore best avoided.
This version of the game is named High Point Craps because the emphasis is on higher numbers. Rolling an 11 or 12 in the come out roll means you win, but any 2s or 3s are ignored. This is appealing, as a 2 or 3 in a normal game would mean you lose. But the downside is that the game has an overall house edge of 2.35% – meaning you'd be better off with standard craps in the long-term.
Join the Best Craps Casinos Online Today
If you already know how to play craps and are simply looking for the top recommended craps casinos, these are our top recommended sites. Sign up, grab a great bonus and play craps for real money today.
Frequently Asked Questions
Q.
Can you play craps online?
A.
It's easy to play craps online at many top casinos. First off, you need to sign up at an online casino which houses the game. You can find a number of our recommended casinos at the top of this page, all of which allow you to play craps for real money or free. Once you've signed up and deposited, just head to the craps table to get started.
Q.
Can you play craps for real money?
A.
Like all classic online casino games, you can play craps games for real money. If you're still learning the rules, play a few games for free to make sure you get the hang of it. Once you're ready, just make a deposit and go to one of the real money craps tables. Choose from several chip denominations, then place your bets.
Q.
How do you bet in online craps games?
A.
There are dozens of different bets in online craps. To begin, choose your stake – this is usually in the form of several different chips at the bottom of the page. Next, hover over where you want to place a bet and tap/click to drop a chip in place. The roll will either happen after a set amount of time or you may have to press a button such as 'Roll' to get going.
Q.
What are the best bets to place in online craps?
A.
The best bets in craps games are those with the lowest house edge. In other words, the bets that give you the best statistical odds of beating the casino. Some examples are Pass, Don't Pass, Come and Don't Come, all of which carry an approximate 1.4% house edge. The casino is still the favourite, but the advantage is fairly narrow. Odds bets are also a very good choice, as they can have a house edge of 0%.
Q.
How do I maximize my chances at an online craps table?
A.
There are several tips to maximize your odds at the craps game table. Firstly, read this guide. Get familiar with the rules and variations of craps. Next, join one of our recommended craps casinos and play some games for free, or for very low stakes. This is essential so that you feel comfortable at the tables. And finally, prioritise bets with a small house edge, as this means you should win more often.
Q.
Can I play craps for free?
A.
Many of the best online casinos allow you to play craps games for free. It's quite a confusing game if you've never played before, and not as easy to pick up as roulette or blackjack. So, we highly recommend you try a few rolls for free before you invest real money.