Play Casino War in India
Playing Casino War in India isn't tricky – it's available at all the best online casinos and the rules are straightforward. Spend just a few minutes reading our expert guide and you'll be an online Casino War legend in no time!
Our guide will show you:
Show Me More
Show Me Less
How to play online Casino War in India
Where you can find the biggest online Casino War bonuses
Why you should always go to war!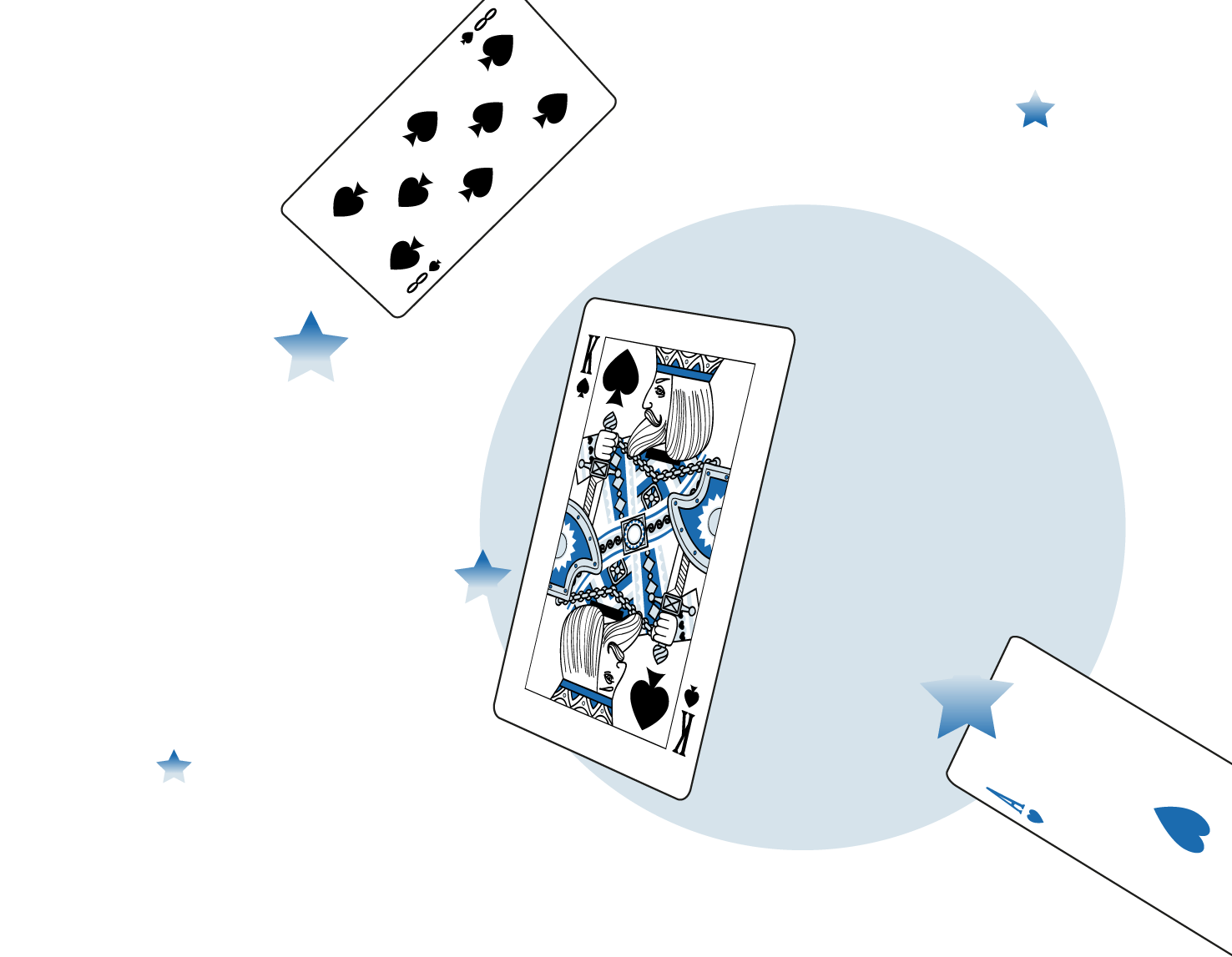 Practice your Casino War skills with our free game below:
Play Casino War Game for free
Ready to play Casino War Game for real?
If you're feeling lucky and want to be dealt a hand of Casino War right now, check out our best Indian online casinos for 2023 below:
Best Casino War Sites November 27, 2023
What is Casino War?
Casino War is a very common and easy game to play. If you're not a fan of complex live dealer casino games or Texas Hold'em and prefer something which is really straightforward, this is the right game for you.
The basic idea of Casino War is a straight battle between player and dealer for the highest card. There's no complicated Casino War strategy to remember and no need to bluff. It's laid back casino fun – and you can play it online at all of the best online casinos in India!
How to Play Casino War Online
Online Casino War is one of the simplest games around, much like online baccarat. Here, our experts will show you how to play Casino War online:
Place your bets: The first thing you need to do is place your bet. Remember that if you want to potentially go to war, you'll need at least another bet behind.
Hit 'Deal': Once you've placed your wager, progress the hand and see what comes out. If your card is highest, you'll win. If the dealer's is highest, you'll lose. If it's a draw, you'll have a choice to make. Note that aces are always high in online Casino War in India.
Fold or go to war: If you and the dealer tie, you'll have two options. You can fold and lose your stake. Or you can go to war, which means doubling your original bet. The dealer will then deal two more cards and, just as with the initial round, the highest card wins.
When given the choice, you should always go to war. You can read more about this in our 'Casino War Strategy' below. Also, it's worth noting that some of the best online casinos in India will offer special rewards for multiple ties – so, you might find that two ties in a row results in a small amount of your stake being returned, for example. Check the rules of the casino before you play to see if they run any such promotions.
Casino War Strategy
With a game as simple as Casino War, it's difficult to talk strategy. Unlike a real war, there is no scheming or planning required to emerge on top of this battle. All you need to do is lay your stake on the line and hope for the best.
However, there are some Casino War tips you can keep in mind which might help you on your journey. Here are a few things to remember when playing Casino War online in India:
No surrender: In many online casino games, taking the more exhilarating option offers worse odds. For example, betting on 20 numbers in keno. But that's not the case in Casino War. Here, any time you tie with the dealer, you should double down on your bet and go to war. If you do, the house edge is 2.88%. But, if you fold every time, it's increased to 3.7%.
Evade side bets: Everybody loves a bit of side action, but it will not serve you well when you're at war. The online Casino War side bet of the player and dealer tying only pays out at 10/1, which means the house edge rockets to 18.65%.
Keep notes: Do yourself a favour and try to take notes of high cards being dealt. With six packs in use it won't be easy, but that means there are 24 aces. Once you nab an ace you can't lose – so if you haven't seen any for a while, you might want to stick around.
Playing Casino War in India for Real Money
If you've played Casino War online in India, you'll know exactly how straightforward it is. Therefore, there is absolutely no need to practice using free Casino War games online.
Whether you're playing Casino War for real money or for free, the game is almost entirely automated. It simply comes down to who has the highest card – you or the dealer.
In our experience, we've found that players do not stick to free Casino War for more than a few hands. Rookie players sometimes enter the game assuming there will be a few rules they need to learn. When they realise it's a simple bet and flip game, they start to ramp up their bets to massive stakes. When they're free chips, there's nothing to win or lose and the stakes have no relevance.
Real money Casino War is much more likely to hold your attention. It's quick-fire but you can win cash on every hand. With real money on the line, the act of going to war also has a lot more riding on it.
Free online Casino War might be fun for a few hands, but the long-term appeal is surely in playing the game for real money. If you want to give it a go, sign up to our top online casino below:
Why Do We Recommend These Indian Casino War Sites?
So, you understand the rules of online Casino War, you've read up on the strategy, but how do you know which casino will give you the most pleasant experience?
Don't worry – we've figured that out for you. Our elite team of industry experts have decades of experience playing at online casinos in India. They also know everything about this game, from Casino War odds and strategy to how to win in Casino War. So, when they give their stamp of approval to a site, you're in good hands.
Here's what we look for when we review sites which offer Casino War in India:
Secure and Licensed
Only sites which are 100% legitimate make the grade. In order to qualify, the site must offer Casino War online and hold a valid gambling licence. Our experts will check that it really exists, using the licence number for a detailed background check.
We'll also play for real money at the casino. This will include making a withdrawal, which means we take on the risk so you don't have to. As well as this, we'll seek out existing players who are based in India and ask about their experiences with the casino.
Generous Offers
There's a big difference between a Casino War welcome bonus with 30x wagering requirements and one with 100x wagering requirements. Our experts know just what to look for when reviewing promotions at online casinos in India. Only the ones which offer genuine value move up our rankings.
Games in Multiple Currencies
Converting your funds to USD or euros can be a long and expensive process. It's much easier and cheaper to play in your local currency. That's why we favour online casinos in India which let you pay and withdraw in local currencies. This might include the Japanese Yen, Thai baht or Vietnamese dong. It might seem like a small thing, but it can make a big difference to regular casino players. Plus, we'll target casinos with varied payment methods including e-wallets and cryptocurrency.
Real Money Games
Even if you start playing free online games at Indian casinos, there's a good chance you'll progress to real money games at some point. We target sites which offer both free play and real money versions of Dragon Tiger, roulette, Casino War and other top casino games.
Enjoy the Best Casino War Odds Online!
That's it – you're now ready to go to battle! Take on the Casino War challenge at one of our top online casinos in India and claim a huge welcome bonus.
Frequently Asked Questions
Q.
What is the house edge in casino war?
A.
The house edge in Casino War is 2.88% if you always go to war and 3.7% if you always fold – but it's much bigger if you add in side bets.
Q.
What are the odds on casino war?
A.
The odds of winning each hand are not far off 50/50, but the house edge enters because of tied hands.
Q.
How do you beat casino war?
A.
To reduce your odds of losing at Casino War as much as possible, always go to war when you tie with the dealer and avoid side bets.
Q.
How do you win at war card games?
A.
Although you can't guarantee a win at war card games like Casino War, you can follow our top tips and strategy to give yourself the best chance of winning.
Q.
Is Casino War a good game to play?
A.
Online Casino War is popular in Asia because of its simplicity. Anybody can join in and start having fun without learning any complicated rules.
Q.
Can you count cards in casino war?
A.
If you notice that there have been a lot of – or very few – aces in recent hands, this could help your decision-making process in online Casino War.