Sports Betting Sites in Indonesia
If you want to bet online in Indonesia, it's probably a lot easier than you think. Read our expert guide for a step-by-step process on how to sign up to sports betting sites in Indonesia, where to get the best odds, and much more.
Here, you'll learn:
How to place real money sports bets in Indonesia
Which betting sites offer the most sports and markets
Where to watch live streams of sports in Indonesia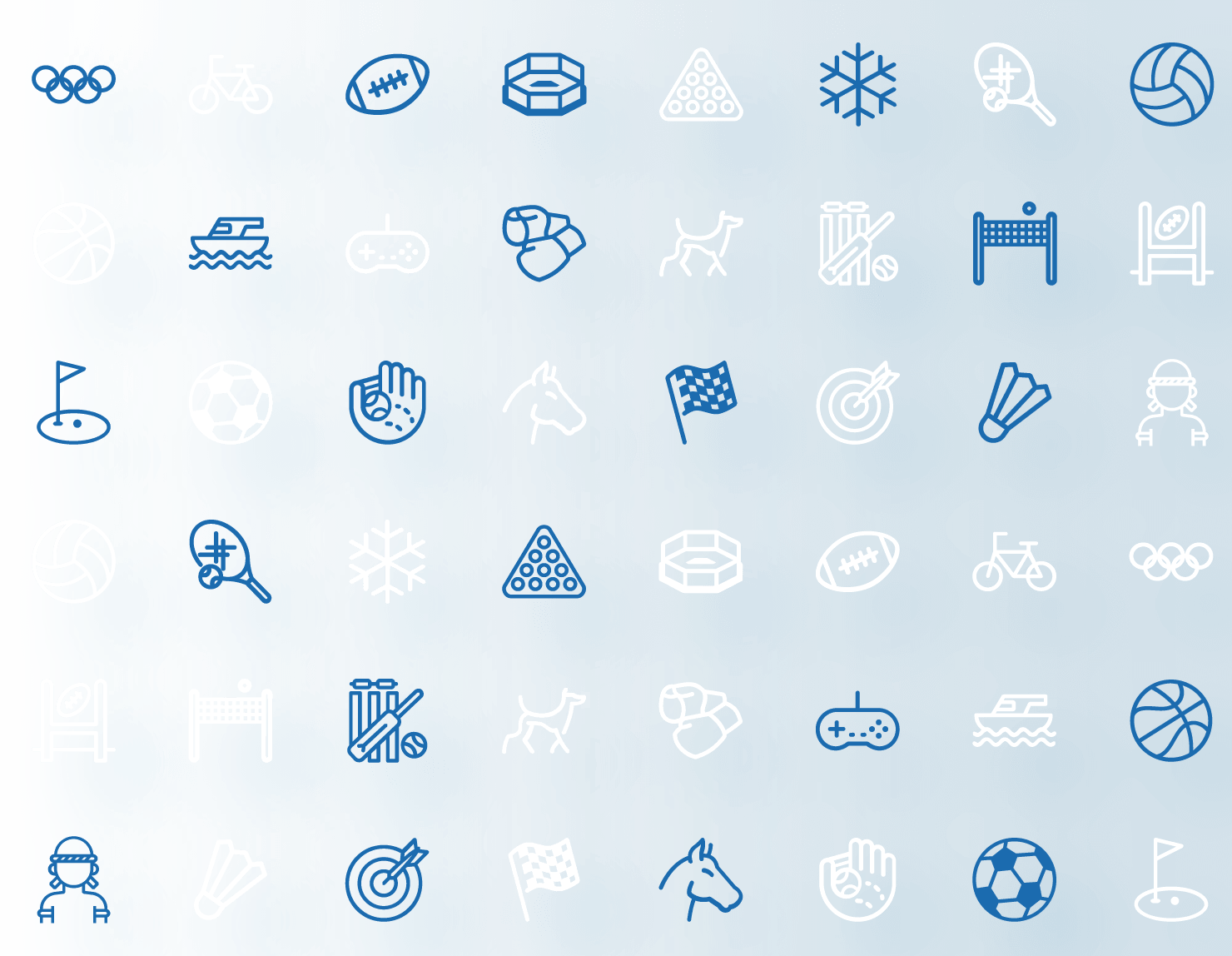 Best Indonesia Sports Betting Sites August 31, 2023
Is it Safe to Bet Online in Indonesia?
If you're new to betting online in Indonesia, you may have some concerns about how safe it is. Indeed, online gambling is not as easy in Indonesia as it is in many other countries around the world. But that doesn't mean it's impossible.
If you follow our expert guide and place wagers intelligently, you should be able to enjoy all the benefits of betting online in Indonesia with none of the drawbacks. Our experts know exactly what to look for and test the sites for players in Indonesia specifically. This means we can guide you on the best ways to bet online in Indonesia.
Among other tips for online betting, you may wish to use a VPN. Or you can choose e-wallets and cryptocurrency to increase your anonymity. And make sure you pick a site which has Indonesian odds, or whichever odds you're most familiar with, to avoid making a mistake.
Why is Asiabet the Best Online Sportsbook Directory in Indonesia?
You'll find hundreds of top sports betting sites in Indonesia that have been reviewed by experts at Asiabet. But how do you know that these reviews will match your expectations?
To ensure we deliver accurate reviews to every one of our readers, our experts follow objective guidelines which steer us towards the finest online betting sites in Indonesia. Here's what we look for:
Security and Safety
If your funds aren't safe, you shouldn't be playing at the site. It's that simple. But how do you know if betting online at an Indonesian site is trustworthy, or if it simply looks safe?
Our experts know exactly what to search for, and do the heavy lifting for you. We'll explore the history of the company and make sure there are no signs of fraud. We'll ensure the Indonesian betting site has an active gambling license, and, of course, we'll test the site first-hand.
Wide Selection of Sports
All of the best Indonesian betting sites offer an extensive range of sports betting options. This will always include the biggest and most popular sports such as football, basketball, and horse racing. But you'll also find motorboat racing, e-sports, baseball, and plenty of other options.
When you bet online in Indonesia you'll notice that some of the best sites allow you to watch the games live, which is ideal for in-play betting. If this is available, our experts will add extra marks to the bookmakers' scores.
Popular Online Payment Methods
The more cashier options you have at an online sports betting site, the more players will be satisfied. Because of this, our experts give higher rankings to Indonesian sports betting sites which make it easy to deposit and withdraw funds. Options we'll look for include bank transfers, credit and debit cards like Visa and Mastercard, Amazon pre-paid vouchers, and e-Wallets like Skrill, GoPay, OVO, DANA, LinkAja, and Jenius.
Top Odds and Bonuses for Indonesia
A big welcome bonus is a great way to start your journey when betting online in Indonesia, so this is certainly something we'll look for. But odds are very important too. Our experts look at the fine differences between each bookmaker. Those who consistently offer the highest odds will appear at the top of our recommended list.
Great Customer Support
Players have come to expect excellent customer service via live chat. But a lot of online betting sites in Indonesia fall short of the standard our expert's demand. We'll speak to the customer help first-hand, taking note of their efficiency and operating hours. If getting help is easy, the sportsbook will move up our rankings.
You can bet on all your favorite sports in Indonesia right now at our number one betting site – just follow the banner below.
Most Popular Sports at Asia Bookies Indonesia
There are tonnes of sports to bet on, and the best online bookies in Indonesia will include as many as possible. This means you can place interesting wagers on everything from mainstream sports to more obscure events such as handball, chess, and volleyball.
However, there are a handful of popular sports bets in Indonesia which you'll find at all the top sportsbooks. Here are some of the most common sports at betting sites in Indonesia:
Football
Frequently referenced as the world's most popular sport, football (or soccer) betting in Indonesia is easy to find. But you will notice a great deal of variance in what is offered from one site to another. For example, most sites will include the English Premier League (EPL), German Bundesliga, and UEFA Champion's League. But only select sites will cover smaller leagues, as well as local competitions like the Indonesian Liga 1.
Basketball
Whether you're a fan of major international leagues like the NBA or prefer to bet on the Indonesian Basketball League (IBL), the top sports betting sites in Indonesia will have you covered. Our experts look for the best odds, biggest choice of markets and most leagues when assessing the basketball options at online betting sites in Indonesia.
Badminton
Badminton is a popular sport in Indonesia so it makes sense that there's a lot of PBSI action. If you want to find online sports betting on badminton in Indonesia, check out any of our top-ranked sports betting websites.
Sepak Takraw
Sepak Takraw blends the best aspects of volleyball and football for an exciting brand of footvolley that Indonesian players love. All of the best online sports betting sites in Indonesia will provide you with a variety of Sepak Takraw markets at competitive odds.
E-Sports and More
E-sports is an upcoming market that is becoming increasingly popular, allowing Indonesian players to bet on video game tournaments featuring titles like League of Legends and Dota 2. Top sports betting websites in Indonesia will also offer sports, including boxing, horseracing, baseball, and a lot more.
Don't worry, there's no need to go digging through endless websites to find out which ones offer all your favorite sports – simply visit any of our best-ranked Indonesian sports betting sites at the top of the page.
How to Bet at Top Sports Betting Websites in Indonesia
Need a guide to online sports betting in Indonesia? Follow our simple step-by-step process to placing a real money bet online in Indonesia.
Join a Site: Choose from any of our recommended Indonesia sports betting sites.
Create a Real Money Account: Add your payment details to top up your account with real money funds.
Place Your Bets: Start betting on your favourite sports and enjoy the game!
You can easily create an account at our top-rated Indonesian sportsbook by clicking on the banner below:
Live Betting in Indonesia
In recent years there's been a big surge in the number of players who enjoy live, in-play betting. Traditionally, bets are placed before an event begins. But in-play betting has made it possible for you to place sports bets in Indonesia as the action is unfolding.
Even better, many websites now allow you to watch the match via live stream once you've placed a qualifying bet. You'll find many regular markets such as Asian handicaps or bets on the outright winner – the only difference being that you can place these wagers in play. It's an exciting way to enjoy the game for a small fee – and perhaps pocket some profit in the process.
In-play betting is a unique way to place sports bets in Indonesia because it allows you to watch the game or match and react live. You may notice certain trends or tactics which suggest an upset is on the cards, and you can therefore win at appealing odds with in-play bets.
Enjoy Betting Online in Indonesia Today!
And that's it – you now know the secrets to Indonesian sports betting! Our experts have found the most inspiring sports betting sites offering the best odds, widest choice of markets, and top-quality streaming services.
Excited to get started? There's no time like the present – sign up to any of the best sports betting sites in Indonesia right here!
Frequently Asked Questions
Q.
Is online gambling legal in Indonesia?
A.
Gambling in Indonesia is strictly regulated, which makes it difficult to find legal land-based gambling options. However, online gambling is a grey area, and the authorities will only prosecute illegal operators, not their clients. Therefore, as long as you stick to gambling with a reputable online bookmaker that's registered offshore, you can safely enjoy placing bets on your favorite sports.
Q.
Where can I gamble online in Indonesia?
A.
Our experts review each site to make sure it's easy for you to place bets online in Indonesia, so you can rest assured your funds are safe.
Q.
Can I claim free bets at Indonesian bookies?
A.
Many online betting sites in Indonesia will offer you free bets when you join. Even after you sign up, you may well be given free bets from time to time.
Q.
How does a live bet work?
A.
A lot of the best betting sites online in Indonesia offer live and in-play betting, which means you can place a real money bet, live, even once a match has begun.
Q.
How are live betting odds calculated?
A.
When you bet online in Indonesia, all live betting odds are calculated based on a variety of factors, including the likelihood of the outcome and where the money is moving in the market – just like the pre-match odds.